Seduce Me with Sapphires by Jane Feather is the second book in the London Jewels Trilogy and I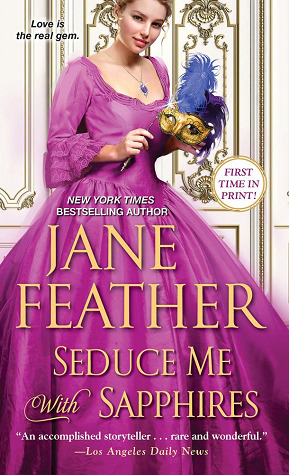 read it as a standalone with no issues. I've not read a lot by this author so I'm not very familiar with her style of writing.
Miss Fenella Grantley was secretly taking drama classes and longed to be an actress. She wasn't much of a rule follower and didn't care what society thought of her appearing on a stage. She was excited when the class was presented the play, Sapphire, to read. Although at first, she wasn't sure if she could do the part of Rose since she didn't feel any connections to her, she eventually managed to make Rose come alive.
Edward Tremayne, the illegitimate son of the Earl of Pendleton, scorned society and wanted no part of it except for Fenella. He had seen Fenella a few years back at a society event and had been curious about her since then. Her image influenced him while writing the character of Rose for the play and he wanted only her to play the role. As they work together on the play, he comes to realize he wants her in his life forever.
Edward was hard to like at first. He was easily irritated and even had a tendency to bulldoze others in order to have his way. Fenella had a calming effect on him, but they still had some explosive arguments. They did enjoy quarreling and the making up.
This book was hard for me to rate because the book was entertaining but not realistic. I think the story line was good, the descriptions were great, and it was grammatically correct. The time frame was never given in the book, but it felt too modern to me. Fenella, the only child Baron Grantley, wondering London by herself, day or night, didn't seem realistic for a historical romance. Fenella and Edward's growing relationship appeared to have a more modern approach also.
Disregarding the modern feel of the book, it had a good storyline, interesting characters, and was a book I enjoyed reading.
Book Info:

Publication: January 28th 2020 | Zebra | The London Jewels Trilogy #2
Three childhood friends dare to defy the rules of London—and love—in this glittering series from New York Times bestselling author Jane Feather…
A FLAWED CUT…
The Honorable Miss Fenella Grantley has a secret: she's been taking drama classes and longs to be an actress. Ladies of her standing don't appear on stage, but Fenella has never been one for society's rules. She's quite excited to take on the challenge of reading the leading role in a new play—until she meets the playwright. Toeing the line between infuriating and irresistible, his first impression leaves a lot to be desired…
OR A RARE FIND?
Edward Tremayne, illegitimate son of the Earl of Pendleton, scorned the ton years ago, making his own way in the world, and pursuing his literary gifts on the side. The only thing he misses from his old world is Fenella. Since seeing her at a ball when she was a young debutante, he's never forgotten her. Now that fate has reunited them, Edward's determined to make her his leading lady—in every way. But the only thing they see eye to eye on is their intense passion for each other. And it just may take a massive misunderstanding for their love to get on the same precious page