In Rules for a Rogue (Romancing the Rules #1) by Christy Carlyle, Growing up in Briar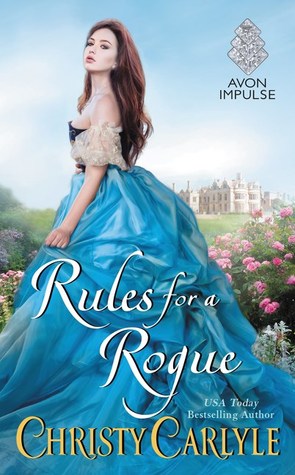 Heath, Christopher "Kit" Ruthven was surrounded by his father's rules for etiquette, rules that were made into a bestselling series of books through his father's publishing company. Even though it meant leaving behind his childhood friend Ophelia Marsden and their newfound love, Kit left for London to prove his worth and make a success out of writing plays. But four years and many wild nights of debauchery later, he finds himself heading home to help his sisters after learning of his father's death. Is it wrong that the most pressing thing on Kit's mind is seeing Phee again? And possibly reconnecting with the only woman he has ever truly loved?
'With her, he sensed a rightness, that all he'd been avoiding, and whatever he'd escaped Briar Heath to find was fleeting. His moments with Phee matter most. Those were what he craved more of, what he wished to gather up and hold onto.'
Much has changed in the four years since Ophelia last saw Kit. Her father passed away, leaving her to care for her younger sister and oversee their family household along with her beloved Aunt Rose. She always thought that she would be able to maintain her distance from Kit, should he ever return home. But all of the desire and fond feelings come rushing back when Phee sets eyes on him once again. Little does Kit know, though, that in addition to becoming a tutor to young local girls, she has penned a book of guidelines in direct contrast to his father's etiquette books. Phee worries that not only will the truth come out about her book and cause a scandal, but that she might also fall for her childhood sweetheart all over again.
'Prudence. Practical decisions. Miss Gilroy's recommendations were clear, but if writing a book of advice had taught Phee anything, it was that offering guidance to others was much easier than avoiding pitfalls herself.'
Rules for a Rogue was a feel-good Victorian era romance that had me cheering on the hero and heroine from the very start. The pairing of childhood friends Kit, a rogue with a genuine heart, and Ophelia, a proper miss with a hidden secret, was fun and felt so very right.
'Nothing had changed. He wanted to kiss her now too. Hell, kissing was only the start of what he wanted to do with Ophelia. He was a wretch. A carnal beast, as one lady had once called him. Though, in fairness, she'd meant it as a compliment.'
I've quickly become a fan of Christy Carlyle's writing in the past year or so and Rules for a Rogue is a great example why. Not only does she lend an authenticity to the historical aspects of her stories but she also has a way of combining characters who share passion and interests, making them truly seem like real couples. Plus this was set in the Victorian age, when so many dramatic changes were happening in women's rights. That was a big factor with Ophelia's book of guidelines she wrote under a pen name, as a way to inspire young women to think for themselves, have their own dreams and goals, and to use their voices to be heard.
I love reading friends-to-lovers tropes and this turned out to be a very sweet, almost lighthearted romance between Kit and Phee. I thought they made a great couple and that it was easy to feel that longing still between them, even after four years apart. Now I think some readers may question whether Kit was really a rogue as we only got glimpses into that part of his life at the beginning of this story. It felt like he was in transition here since his father died and he had to face his family and his childhood home. I really liked Kit, though, and wanted to see him capture Phee's heart all over again as well as be successful in playwrighting. Watching him with his sisters, especially his youngest sister Clary, was quite entertaining and I got the sense that he did miss the time he spent away from them.
I have to admit that I felt a kinship with Phee, with all of her daily to-do lists and her schedules. She had the weight of her family's household on her tiny shoulders but she did what she had to do to make ends meet. I loved Phee's tenacity and her love for her sister Juliet and her Aunt Rose. But I understood her tangled emotions when it came to Kit. Her heart wanted another chance with her childhood friend but her head knew it was probably not a good idea. Author Christy Carlyle did a nice job of describing how trapped Phee felt by it all and I thought she let things play out in a manner that seemed honest.
Tender romance set in an exciting time period in history, Rules for a Rogue was a quick, thoroughly enjoyable read. From the etiquette excerpts included at the beginning of the chapters to the interesting characters, there was a lot to be entertained by in this first book in the Romancing the Rules series.

Book Info:

Publication: Published November 1st 2016 | Avon Impulse | Romancing the Rules #1
Kit Ruthven's Rules (for Rogues)
#1 Love freely but guard your heart, no matter how tempting the invader.
#2 Embrace temptation, indulge your sensual impulses, and never apologize.
#3 Scorn rules and do as you please. You are a rogue, after all.
Rules never brought anything but misery to Christopher "Kit" Ruthven. After rebelling against his controlling father and leaving the family's etiquette empire behind, Kit has been breaking every one imaginable for the past four years. He's enjoyed London's sensual pleasures, but he's failed to achieve the success he craves as London's premier playwright. When his father dies, Kit returns to the countryside and is forced back into the life he never wanted. Worse, he must face Ophelia Marsden, the woman he left behind years before.
After losing her father, Ophelia has learned to rely on herself. To maintain the family home and support her younger sister, she tutors young girls in deportment and decorum. But her pupils would be scandalized if they knew she was also the author of a guidebook encouraging ladies to embrace their independence.
As Kit rediscovers the life, and the woman, he left behind, Ophelia must choose between the practicalities she never truly believed in, or the love she's never been able to extinguish.