Rules of Entanglement by Gina L. Maxwell: We first met Vanessa in Seducing Cinderella. She is Lucie's best friend and is heading to Hawaii to help Lucie plan the wedding of her dreams to Reid. Unfortunately a case of food poisoning prevents Lucie from arriving with Vanessa, but Vanessa agrees to go ahead of her and get the planning done.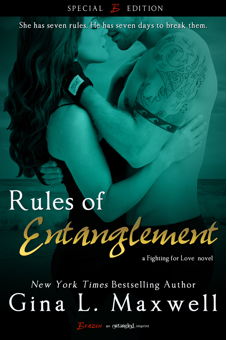 Vanessa lives by her 7 rules when it comes to life and men. She wants to avoid the kind of life and men her mother had, and she believes that her rules will give her the structure (not to mention rigidity!) she craves. When she meets Lucie's brother at the airport (and he's an hour late!), she knows immediately that no matter how hot he is, he is definitely not someone who will fit with her rules or her life. Jackson can almost see the steam rising off Vanessa when he finally meets her at the airport. He is an hour late and they have definitely started off on the wrong foot! Still, Jackson is very intrigued by Vanessa as soon as he meets her, but Vanessa has made it clear she wants nothing to do with him! That won't stop Jackson from trying…even if it means lying to her about having to pretend they're Lucie and Reid to get into the resort where Lucie's wedding will be!
Pretending to be a real couple means they'll be spending a lot of time together, something Jackson is really looking forward to…Vanessa? Not so much! "…as soon as the leggy redhead stepped from the car, his mouth went bone dry, his adrenaline kicked in, and somewhere he imagined a ring girl walking around holding up a giant card with Round 1 painted in block letters." As soon as Jackson started the lie, he realized the err or his ways, but as the hours and days go on he is scared to tell Vanessa the truth for fear she will hate him, and he will have no chance with her.
When Vanessa agrees to have a 3 day fling with Jackson since they have to pretend to be a couple anyway, Jackson is determined to win her over and turn it into something more. Things get very hot and heavy between them and before Jackson knew it "He loved her. Convincing her of his feelings and to listen to her heart instead of her rules was a challenge he was confident he could win." But will he, especially once the truth comes out? Vanessa has opened up more to Jackson than anyone else, even Lucie. She is starting to trust him and she feels the stirrings of love. Will she take the chance? Both Jackson and Vanessa have some emotional baggage, and Jackson has the big lie looming over his head. What will happen when Jackson finds the courage to come clean? Because he's going to have to before the wedding!
Vanessa and Jackson were both funny (laughing out loud funny at times!) and likeable people in Rules of Entanglement. The trickery ploy Jackson used seemed a bit far fetched to me, but other than that the relationship is believable…some relationships in life really do bloom that fast! Vanessa is still scarred from her childhood, which explains her rules and strict adherance to them…can she relax enough to realize that with love you don't need rules? And can she find it in her heart to forgive Jackson and move forward? Jackson is going to have his work cut out for him proving to Vanessa that he is the man for her…"For the first time in his adult life he was more afraid of losing a 'forever' relationship than getting in one."
At times the story seemed to drag out a bit, but for the most part Gina kept me enchanted with the action and the scenery in Rules of Entanglement. I could really feel myself there, especially lying in that hammock! Gina gives us some really steamy sex scenes along with the scenes ones that pull at your heart. I really liked catching up with Reid and Lucie again in Rules of Entanglement also. Although this is the second book, it can easily be read as a stand alone.
I'd recommend this for anyone looking for a sizzling romance!
Book Info
Publisher: Entangled: Brazen (March 31, 2013)
Seven days. And seven rules to break…
District Attorney Vanessa MacGregor firmly believes that structure and order are the stuff that dreams are made of. Happiness can be planned—and it starts with the seven rules she's laid out for her future. But as she's organizing her best friend's wedding in Hawaii, all of Vanessa's best-laid plans are about to meet their match in a wickedly hot MMA fighter…
Jackson "Jax" Maris is focused on surfing, training, and fighting. That is, until he opens up his big mouth and finds himself having to pretend he's engaged to his little sister's best friend, Vanessa. When they're forced to share a romantic bungalow, however, their little charade suddenly takes a turn for the seriously sexy. And while Jax is definitely not part of Vanessa's long-term plan, he has seven days—and seven naughty nights—to turn her seven-rule plan upside down.