In Talking Dirty with the CEO by Jackie Ashenden, Christie St John is a gamer and tech geek who writes for – what else – but a tech magazine. She normally loves her job, however, she is not sure about her latest assignment which is to research online dating. She hates everything about the dating process. It brings out her insecurities, puts her in the spotlight and showcases how socially awkward she is. Christie dubs herself Naughtygirl25 and finally connects with someone in an online chatroom. She channels that attitude and flirts shamelessly with Studman500. When she decides to be forward and ask to meet, he surprises her by agreeing. Her best friend helps her choose an outfit and is there with her as her "wing woman" to come in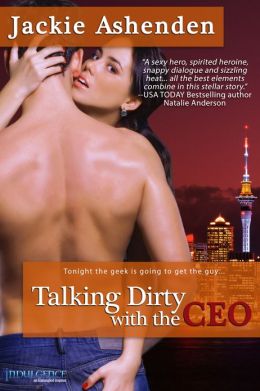 and save the day should Christie get into trouble. She wasn't sure what to expect, but the tall, seriously handsome man at the bar was too intense to handle. So she did what any girl would do. She ran.
"She could have this. She could go home with this amazingly sexy bad boy. See where it led. See how far she could go. And why not? Why couldn't the geek get the hot guy for once?"
After she retreats to the sidewalk, she's mortified when he tracks her down. She can't believe he's interested in her. She feels like a fraud, knowing the sexy clothes are not really her, but somehow Joseph can't seem to take his gorgeous blue eyes off of her. Christie accepts his invitation to his place, deciding to take the risk and see where the night will take them. From the first moment they touch, she feels an electricity run through her body like nothing she's ever felt before. And she can see in his eyes he feels it too. After several earth-shattering moments together, Christie cuts their time together short by fleeing again, knowing they may never again meet as she didn't give her real name and she never got his last name. Imagine her surprise when she sees him at a tech convention a short while later, and she realizes he's business mogul Joseph Ashton. And that she has to interview him for the exclusive magazine article she's been assigned.
"Joseph bit off a curse, tossing her phone carelessly onto the couch beside him. Then he leaned forward and reached for her, his hand on the back of her head, pulling her to him before she could move. And then the whole world stopped on its axis as his mouth covered hers."
Joseph Ashton has always been a person in motion. He hates sitting still and has trouble focusing thanks to a condition that has plagued him since childhood. It even plays a part in his relationships, making it difficult to stay interested in one person for any length of time. Therefore, keeping things casual has been his solution. When he takes a chance and goes on a blind date to have some fun, he is not expecting to feel such a strong attraction to the leggy beauty in the tight black dress. He's even more intrigued at her underlying sense of naivety and their shared love of gadgets. Joseph feels such an incredible pull to her that he can't help himself and makes love to her that night…only to have her run after their amazing encounter. He can't stop thinking of her during the days that follow. When he spots her in the crowd as he gets ready to give a speech at a tech conference, he sends his team to find out more about her. To his delight she is scheduled to interview him so he puts a plan into motion to seduce her and find out why she ran away. The chemistry is still just as intense between them and he realizes that one more night with Christie may never be enough.
I really enjoyed Jackie Ashenden's writing when I read Falling for Finn a couple of months ago. This story is just as well written and full of the snappy dialog I have come to expect. The story is set quite differently, but the characters are still full of passion: both for each other and in the love of their jobs. Christie and Joseph have insecurities like everyone else but due to their family history it seems to have magnified these perceived flaws. They end up helping each other come to terms with their past and fall in love in the process without even realizing it. I definitely recommend this story if you 're a fan of romance with a lot of passion and love a happy ending for offbeat characters.
Book Info: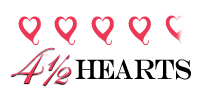 Publisher: Entangled: Indulgence (May 13, 2013)
Gadget journalist Christie St. John is more geek than chic. But when research for an article she has to write on online dating leads to the bed of the hottest guy she's ever met, she knows that if the geek is to keep the hottie CEO, she's going to have to come out of her digital shell.
Tech mogul Joseph Ashton never expected an Internet blind date to end in the best sex of his life. Yet as the chemistry between him and Christie burns out of control, he can't help but think this woman is out for his money like all the rest. She claims she wants his heart instead – but that's the one thing he can never give.