In Rumor Has It by Jill Shalvis, Griffin is at a turning point in his life. He's been medically discharged from the armed forces and trying to decide what comes next. In the mean time, he's back in his hometown of Sunshine for his sister's wedding. Sunshine is not a place he associates with happy memories and he has no intention of staying.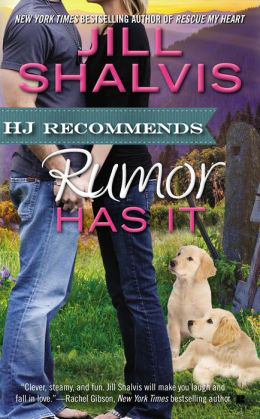 The last thing he expects is to find a place in his heart for Kate…his sister's friend, an elementary school teacher, and an all around good person. Not to mention she's grown up very nicely! Kate is happy with her life, loves living in Sunshine and taking care of her younger siblings and her father…but she secretly feels something is missing. She's had a mediocre relationship with Ryan that is long since over, she has friends, but she doesn't feel like she has a lot of excitement and definitely wouldn't mind a man in her life. When she sees Griffin again, she is stunned by how he still makes her feel. Kate would love to spend more time with him…even if it is just one night – she does not want to deny herself the things she's sure he will make her feel. If only she can convince Griffin! Griffin is just as attracted to Kate, but he does not want to start something that can't be finished, because he does not think Kate is a one night stand kind of girl.
Kate in pursuit of Griffin soon makes it impossible for him to resist her. Kate makes him feel things he never expected to feel. The more time they spend together, the more they want to be together, and they work well together. Griffin is trying to come to terms with his past relationship with his father, and is soon working on his ranch. Before they can take their relationship any further though, Kate has a few things to decide…she has an incredible opportunity outside of Sunshine, if only she can find the courage to take it. And just when Griffin thinks he might be able to feel at home in Sunshine, past secrets come crashing down on him…sending him running from Kate and Sunshine.
Will that be the end or can Kate and Griffin find a way to be together, come to terms with the past, and move into the future together?
Jill Shalvis gives us a wonderful love story in Rumor Has It. She brings complex emotions to the surface with some very strong characters. Kate and Griffin are both fantastic people, they are realistic and people you can imagine spending time with. I loved Kate, watching her grow through the story, putting herself first for a change. I really admire Kate! Kate brought a lot of laughter to Rumor Has It, and she and her family brought even more character to Rumor Has It. Griffin has his own tortured soul all the way from childhood to his adulthood. He might have found just what he needs in Kate if he can follow his heart.
All of the secondary characters blend well with the story line without ever taking away from Kate and Griffin's story. It was great to see some of the people from Jill's previous Animal Magnetism books. And while Rumor Has It is part of the Animal Magnetism series, it can definitely be read as a stand alone book (though if you haven't read them I highly recommend the other books too!).
I highly recommend Rumor Has It to any romance reader looking for love, laughter and some sexiness!
Book Info:

HJ Recommends
Published November 5th 2013 by Berkley | Series: Animal Magnetism #4
He'll help unleash the new woman in her…
Special Ops soldier Griffin Reid doesn't exactly have happy memories of growing up in Sunshine, Idaho. He's only come back to recover from a war injury, and while he refuses to admit he's in a weakened state, he finds comfort in the last person he'd expect.
Kate Evans teaches fourth grade science in Sunshine, the place she's always called home. Dreaming of graduate school and a happily-ever-after, she's desperate to break out of the monotony of Sunshine. Luckily, a certain sexy man has just come back into her life.
To Griffin, Kate as always been his little sister's friend, but now he's finding her to be so much more. As both attempt to forge their paths, they must decide if their passionate connection can turn into something lasting…