In The Pregnancy Plot by Paula Roe, AJ Reynolds is back in Matthew Cooper's life with a purpose. She wants him to get her pregnant and walk away from her and their child. With her biological clock ticking and all other possibilities of having an artificial insemination delayed by another three months, AJ decides that using Matthew to fall pregnant is the only way to get a baby.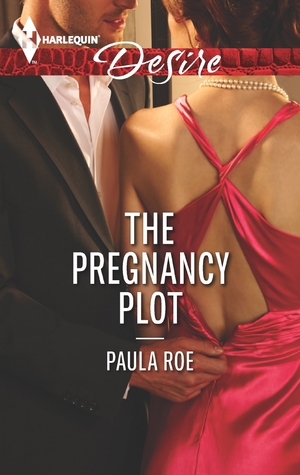 Matthew is still attracted to AJ and does not disguise the fact that he still wants her. She was the one that got away and the mistakes he made in their relationship ten years ago still fill him with regret. Destiny has given him another chance with AJ but it is impossible to walk away again-especially when his child is involved. He agrees to her proposition but resolves to make her stay this time around.
She'd Made It Clear What She Wanted,
And That Didn't Include Him.
But he'd worked hard to get where he was. Whenever he decided to pursue a goal, he committed everything to it. And now here was AJ, a ghost from his past, offering up his deepest desire: a child, with her.
He had no intention of walking away—didn't want to walk away. She'd chosen him, come to him.
It was fate.
The Pregnancy Plot by Paula Roe was a well written fast paced read with a unique story line of the heroine having a relationship with the hero to get pregnant and then walk away. AJ was a reformed party girl and had changed a lot in the ten years she last met Matthew. A sad childhood and her few failed relationships had convinced her that fairy tales were not for her. After the failure of his marriage and the death of a loved one, Matthew has changed a lot too. He was not the cool, detached workaholic anymore and had full plans to make AJ stay by making her fall in love with him.
Most of the story is pretty much straightforward and it gets monotonous when you are able to predict just about everything.There was lots of physical intimacy  and the romance is believable. I liked how AJ and Matthew rediscover each other all over again through their conversations and mutual passion.
She would not expect anything more than what it was—a physical union to produce a baby. She'd enjoyed men before without the emotional commitment—she could do the same with Matthew Cooper.
Overall The Pregnancy Plot by Paula Roe was a well written, fast paced read with a unique story line but the story becomes highly predictable after first few chapters and there a few surprises in store for the reader. Recommended for Paula Roe fans and anyone who likes straightforward romances.
Book Info:

Published November 5th 2013 by Harlequin Desire (Book 2268)
His ex is back—and she wants a baby. How can any red-blooded billionaire say no to siring a child with the one who got away…?
It's an offer Matthew Cooper can't refuse. Make a baby with his long-ago lover, AJ Reynolds? He'd like nothing better than to bed her again. The brilliant doctor has had ten years to contemplate where he went wrong. This time, he won't let her get away.
Free-spirited AJ wants no romantic entanglements with the all-business ex-boyfriend who broke her heart. All she wants is a child. But Matt's persistent attentions weaken her resolve, threatening all her carefully laid baby-making plans