Runaway Groom by Lauren Layne: Gage is one of the hottest actors in Hollywood and he can't believe he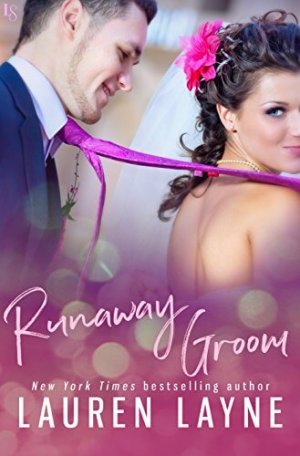 got roped into starring on the reality TV show for men who have a history of ditching their bride-to-be on the wedding day. He's sexy, charming, and has perfected his public façade to hide the burdens of fame. Ellie can't believe she got roped into being one of the women vying for Gage's heart on a reality TV show. She's a smart, savvy, businesswoman and has no intentions of falling for the too-slick actor.
There isn't enough alcohol in the world to get through the initial meetings with the prospective women for this show, until Ellie walks up. She's unique, different, and immediately captures his attention with her honesty. She's the one woman he's excited to get to know and she's the only one who doesn't want to be there.
"That was good of you," I manage, crossing my arms.
My eyes have adjusted to the dark, and I can see the flash of white as he gives me a quick smile. "How hard was that for you to say?"
"Very," I admit.
It's very apparent that they have chemistry, but Ellie isn't impressed with him, his lifestyle, or his practiced charm. She doesn't want to want him, but she gets to know him and see that there's more than his Hollywood, playboy persona. He can be thoughtful and romantic. Both struggle in their own way with the drama on and off camera as they are surrounded by the other women who are a mix of crazy, catty, scheming, jealous, and seemingly normal.
"And then?"
I grin. "And then…we'll figure it out. Quick-like."
"What about the boards?"
I splash her. "Ditch them. Do you want to escape the cameras or not?"
Runaway Groom is fun and entertaining with plenty of anticipation. Lauren Layne re-created all the drama, conflict, and craziness you would expect from the cast of a reality TV show. Ms. Layne created a highly entertaining cast of characters and showed that you can find love in the most unexpected of places. Runaway Groom can be read as a standalone book in the I Do, I Don't series. Fans of The Bachelor, Mia Sosa, and A.M. Madden will enjoy Runaway Groom.
Book Info:

Publication: Published January 30th 2018 | Random House Publishing Group | I Do, I Don't #2
For one charming playboy, getting cast on a Bachelor-esque reality TV show is the shock of a lifetime—until he finds love where he least expects it. And now the chase is on!
Gage Barrett's reputation as a ladies' man has been greatly exaggerated, but none of that matters after a drunken bet lands him on Jilted, a reality TV show that matches runaway grooms with wannabe brides. Now he's stuck at a Hawaiian resort with nineteen women competing to drag him back to the altar—and one contestant who's even more miserable than he is. Gage has no idea how feisty, independent Ellie Wright wound up in the cast, but it's obvious she hates his guts. And if there's one thing Gage likes, it's a challenge. . . .
Ellie can't believe she let her best friend talk her into exchanging her dignity for a glorified bikini contest. Still, she could use the exposure—her business is struggling—and she'll probably be one of the first to get eliminated anyway. But Gage isn't the shallow jerk Ellie anticipated—and he's in no rush to send her home. As stolen kisses turn into secret trysts, she finds herself losing track of what's real and what's for the camera. With the wedding finale looming, this runaway groom is tempting Ellie to start believing in storybook endings.