Saddle Up by Victoria Vane is the fourth book in the Hot Cowboy Nights Series and can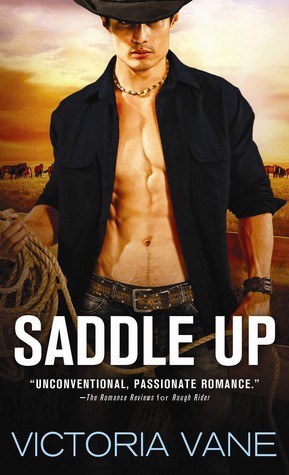 absolutely be read as a standalone. If you enjoy your heroes to be cowboys, this is definitely the book for you. This author never fails when delivering a well-described, fully developed romance full of life.
Keith Russo is known for his talents with horses. He makes good money being a clinician and his looks bring all the women to his feet, that is until an aspiring filmmaker ends his career. Miranda Sutton had nothing to do with the end of Keith's career. All she did was videotape everything, it was up to her boss, Bibi, to decide what the finished product looked like. When they first met, Miranda's impression of Keith wasn't a positive one. She believes he does tricks with his horse just to seduce women and that's the way the documentary came across. When Keith refuses to sleep with Bibi, the documentary paints him as a con artist and a gigolo, so when Keith and Miranda meet again, sparks fly, but not the good kind.
When Miranda gets the chance to make another film she jumps at the opportunity, even if lands her in the same vicinity as Keith. It's been a year since she's seen him and the reunion isn't a happy one. It takes a little time but eventually, they get to the root of the issue and put the past behind them. They both acknowledge their attraction to each other and when they get the chance they act on it. But how can a relationship work when Keith doesn't stay in one place and Miranda needs a commitment, he's not ready to give?
Miranda is not happy in L.A. and doesn't believe she fits in. Being with Keith and learning about the horses, question where she truly belongs. She decides to leave it all behind and go to her grandma's ranch in Montana and take in Mustangs. When she begs Keith to come, he immediately turns her down and asks her to rethink this crazy idea of hers but when Miranda gets an idea in her head, there's no turning back.
Miranda is a strong female character who follows her heart and I really enjoyed that about her. Keith is set in his ways and is carrying some family baggage around trying to find out where he belongs. The truth is Keith's life is lonely. He's still trying to find his way in life and Miranda just might be the person to lead him there.
"I would never intentionally hurt you, Aiwattsi. If I ever did break your heart, it would break mine too."
Their love isn't instant and isn't without its up and downs, but each moment together just brings them closer, in a way that's realistic and undeniable.
Book Info:

Publication: June 7, 2016 | Sourcebooks Casablanca | Hot Cowboy Nights #4
WILD HORSES COULDN'T BRING THEM TOGETHER…
With exceptional talent and looks, cowboy "horse whisperer" Keith Russo once had the world at his feet – until his career was unwittingly destroyed by an aspiring filmmaker. After being rejected by his family for exploiting his Native American heritage, Keith has no choice but to turn back to his humble beginnings as a wild horse wrangler.
BUT MAYBE THEIR PASSION CAN…
Miranda Sutton always dreamed of making films, until wild mustangs captured her heart. But turning her grandmother's Montana ranch into a wild horse sanctuary proves harder than she thought. She needs someone who knows wild horses. Keith and the mustangs need each other. And while working together to save the herd, Keith and Miranda discover a passion as wild as the mustangs they love.