In Save a Truck, Ride a Redneck (Southern Eclectic # 0.5) by Molly Harper,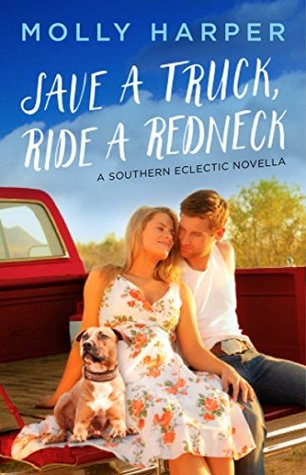 Marianne McCready loves her kooky family, but even after four years away at college she's reluctant to spend the summer back in her hometown of Lake Sackett, Georgia. Helping out with the family businesses, their bait and tackle shop which sits next to their funeral home (it's a long story how that came to be), isn't really the issue. Nope. It's the inevitability of running into her former boyfriend Carl Dawson that has Marianne all out of sorts. Especially given the way things ended between them, with her breaking things off suddenly and speeding out of town, college bound.
"It's been four years and that's all you have to say to me? One-syllable answers?"
Carl's expression soured. "Well, shucks, ma'am," he drawled in an exaggerated accent. "I didn't run off to some fancy school and learn ten-dollar words, so 'one-syllable answers' is all I got in my back pocket."
She muttered, "I think I liked 'hey' better."
Carl is just as handsome as ever. Actually, scratch that. He's even more good looking than he was before, which simply isn't fair. And Marianne doesn't want to admit it, but there are still major sparks between them. Her hopes for an enjoyable, uneventful summer are dashed when she realizes that she might not be able to let go of Carl completely without giving things one more try. Pair that with tempers flaring up between townsfolk at the funeral home and some devastating news from one of her family members and Marianne will have her hands full trying to keep the peace and keep from losing her heart again as well.
'She'd loved him the way only teenagers fall in love: whole heart, no embarrassment, no thought to the consequences or the long term, just dumb-assed optimistic frenzy.'
Molly Harper can get me giggling like no one else and that's exactly what happened with Save a Truck, Ride a Redneck. From the hilarious title to the sweet cover to the wonderful people we met along the way, this novella kicked off the Southern Eclectic series in style.
It goes without saying that Molly Harper's newest release is funny, snarky, and filled with a lot of heart. So even though this didn't take place in our beloved Half-Moon Hollow, Kentucky–and it's contemporary, not paranormal–Save a Truck, Ride a Redneck was still a sassy Southern romance. This time it was set in small town Lake Sackett, Georgia which had its own fair share of offbeat, completely likable characters. I had a blast getting to know them all and this was a great preview to the area and the vibe of the town. It really has me looking forward to the upcoming full length novel Sweet Tea & Sympathy.
As with most of Harper's work, I fell hook, line and sinker for everyone here. Our main characters Marianne and Carl had a complicated past but had a lot of love still remaining between them. I did so enjoy their bantering and the push-pull they had while trying to get past Marianne having walked away four years prior. I think what I liked most was that she owned up to what she did. She apologized and truly felt bad for freaking out. Carl was a terrific guy and admittedly did give her a bit of a hard time at first (I can't blame him) but it was more to make a point than to show animosity. I loved that even though he came from a broken family and a rough upbringing, he was solid, stable–and sexy!–and was exactly the guy for Marianne.
Marianne's family was an absolute hoot and I think will have people chuckling for sure. They of course had their little squabbles and normal family issues. But considering that they had their own McCready "compound" complete with a funeral home, bait and tackle shop, and a snack shack…it was a bit, ahem, quirkier than most families. Probably. Maybe. But they were definitely a loyal, funny as all get-out bunch, anyway.
A second chance romance that will leave you with a happy grin and a warm & fuzzy feeling, I think readers will enjoy every single moment of Save a Truck, Ride a Redneck.
Book Info:

Publication: Published October 16th 2017 | Pocket Star | Southern Eclectic .5
Molly Harper brings her signature "clever humor, snark, silliness, and endearing protagonists" (Booklist) to the charming small town of Lake Sackett, Georgia with the new Southern Eclectic series.
Carl and Marianne were high school sweethearts, loving the way only teenagers can—with no thought to logic or pride, just a bone-headed, optimistic frenzy of unicorns and hormones. That was all they needed. Or so Carl thought.
Scared of being stuck in Lake Sackett, Georgia, like so many of her friends—without a real shot at a future or achieving her own dreams—Marianne panicked and bolted to college after stomping Carl's heart into the high grass. But when she returns to Lake Sackett for the summer with her family after years away, she and Carl are drawn together like moths to a flame. As they rekindle their old romance and remember what it was like to be in love, they have to wonder: is this, finally, their real chance at happiness?
Perfect for fans of Kristan Higgins and Amy E. Reichert, this warmhearted and witty love story introduces Molly Harper's new Southern Eclectic series set in the small town of Lake Sackett, Georgia. This story about second chances proves that "Molly Harper never lets the reader down with her delightfully entertaining stories. Humor, emotions, and romance are cleverly matched, and her likable characters are most appealing" (SingleTitles).