The Inn at Blue Hollow Falls by Donna Kauffman is a novella. Those who have read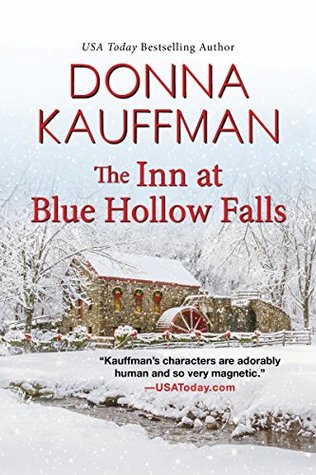 my reviews of novellas in the past are aware I'm not usually a fan of them, but this isn't the case here. I loved this one! And if you haven't read the first book in the series, this can be read as a standalone. I haven't read the first one and had no problems following along with the characters, even though the couple from the first book appears in this one.
Stevie has travelled to Blue Hollow Falls to help her friend Sunny with her new greenhouse business. The only problem is Sunny has a plumbing issue at her place and has no place for Stevie to stay now. Luckily Noah, a friend of Sunny and her boyfriend Sawyer, runs the local inn and has a room available.
Through a snow storm and a series of mishaps, the pair get to know one another. Stevie helps Noah out at the inn, which surprises him since his ex-fiancé would never do such a thing. I really liked how well the pair worked together, and how playful they were with one another.
==She sat bolt upright, then almost screamed when she saw someone looking in the window. A second later, her hand still clasped over her racing heart, she burst out laughing. Noah had built her a snowman, complete with a dorky mukluk hat, wooly scarf, big carrot nose, and what looked like a coffee bean smile.==
The Inn at Blue Hollow Falls is a charming story filled with humor and heart. If you're looking for a quick, drama-free read, you should definitely check out this novella.

Book Info:

Publication: October 31, 2017 | Zebra | Blue Hollow Falls #1.5
Stevie is thrilled to help her best friend Sunny launch her new greenhouse business in Blue Hollow Falls. Not only does it give her a chance to visit the quaint location, but it's a welcome distraction from Stevie's recent bad luck with men. Just one catch: since Sunny's home is under renovation, Stevie must stay at the local inn, whose amenities feature hunky innkeeper, Noah Tyler.
Noah may be as tempting as her grandmother's famous sweet potato pie, but city-girl Stevie isn't sticking around—and she doesn't do flings. Yet when Noah's chef gets stranded in a Christmas Eve snowstorm, Stevie can't resist pitching in and serving up some of her family's favorite recipes. The magic of a Blue Ridge Christmas is already rekindling Stevie's holiday spirit and making her wonder what else she might be missing out on. Now can Noah restore Stevie's belief in love?