Saved by Her Enemy Warrior by Greta Gilbert was the first book I read from this author. I don't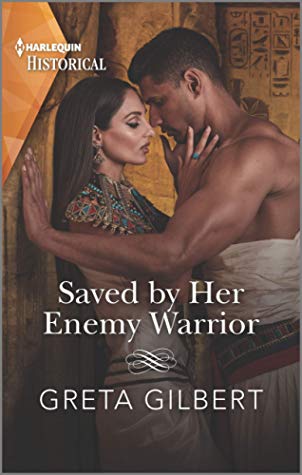 usually read books based on Egyptian history, but I was impressed by all the history and beautiful visual descriptions the author used.
Aya was enclosed in the tomb of her beloved Pharaoh Tausret and left to die by the High Priest of Amun. The High Priest had his eye set on becoming the next Pharaoh of Egypt. A civil war was about to commence over the throne. A rebel general, General Setnakht, was gathering an army to battle with the High Priest for the throne. Aya was the only person who had any real knowledge of Tausret's heir.
Intef was a soldier for the General and his mission was to chisel out of the tomb so the treasure buried with Pharaoh Tausret could be removed and used to help the General fund a larger army and win the throne. He knew that with two of them in the tomb the air supply would not last the nine days it would if he was by himself. In order to gain Aya's trust and help, he lied about his intentions. Aya was determined to guard Tausret's afterlife and when she learned of Intef's deception she was devastated. When she discovered the truth of her parentage, she knew what she must do to stop the civil war and save the lives of the people.
The book was well written and had a good storyline. The pace of the book seemed to be slow in the beginning but then felt rushed towards the end. Although the book was not one I would normally read, I do feel the author had done her research and tried to stay true to the history of Egypt, their beliefs, and the time period.
Book Info:

Publication: March 1st 2020 | Harlequin Historical |
Entombed with her enemy…
Will her heart remain unscathed?
Left to die in the tomb of her beloved Pharaoh Tausret, royal adviser Aya would be silenced forever by those who seek power. But she is not alone! Egyptian soldier Intef is there to steal her mistress's gold. Now they must work together to escape. This handsome warrior is Aya's enemy, yet it's passion not hatred that burns between them. Can their desire withstand the revelations that await them outside?