Not According to Plan by A.M. Madden: What was supposed to be just a fun one night stand on her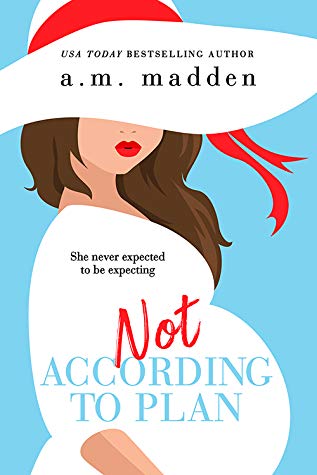 birthday soon became the start of the rest of her life. Feeling a bit bored with her life and job Jade lets her best friend Amy convince her into taking part in a Kismet Karaoke contest, when she is paired up with the cute bartender she had been eyeing all night, Jade decides what the hell why not join the one-night-stand club, it was her birthday after all.
"Nothing had diminished that electrical charge that seemed to enigmatically link us as one. Jade's mother liked to label our chance encounter as fate. Jade and I believe we were destined. Either way, that entrancement we seemed to have for each other during our one-night stand only intensified with each day that passed."
Being one third of identical triplets Max has never had a dull day in his life, what he did not know was that his life was about to get a whole lot more interesting all thanks to his brothers Kismet Karaoke. Even with his hands full running his New York gym MAXimum fitness and getting ready to launch his new location in Miami, Max being the good brother that he is still came to Brads rescue to help fill in as a bartender. This is where Max lays eyes on Jade, it was instant attraction, Max however knew even from then that there was something different about Jade, it was more than just raw sexual attraction. After their brief but amazing night together Max is not quite ready to let go of Jade, and it seems fate would agree with him on this one.
Busy on her pursuit to make junior partner at her law firm, Jade is given quite the shock when she finds out that she is six weeks pregnant. This news sends her planned orderly life into a tailspin, but being the upstanding person that she is, Jade decides to tell Max about their new development, even though she expects nothing out of him in the situation. When Max is delivered with the news he is about to become a father again, he thrilled and determine to not only be a part of his babies life but also make things work with Jade.
"I love you, Jade. With each kiss, each touch, and each look, you manage to turn my feelings into a living, breathing thing"
I loved A.M. Madden's take on the unexpected pregnancy trope. She out did herself with the cover on this book, absolutely gorgeous. 'Not According To Plan' was a refreshing read, with a strong career driven female lead, rather than a damsel in distress. In saying this, Max, was a compete delight, he was exactly what you would want an expecting father in his situation to be; supportive, caring and calm, even when he himself was not feeling so calm.
This book had a good mix of cute love story mixed in with the angst of not knowing if everything will work out. I must say a personal favorite was the trip to the zoo with sea lions. I do have to say Brad and Amy were hilarious and should definitely get a book of their own.
Book Info:

Publication: March 23rd 2020 | Entangled Publishing, LLC Amara |
For one night of my life, I dared to do something reckless.
My birthday. A bar. Karaoke. And a man so hot he could melt the sun.
Sparks flew. Lust took over.
For one night of my life, I felt alive.
Then I was back to my "boring" life. Career-driven. Goal-oriented. Always planning ahead.
But nothing could have prepared me for the positive pregnancy test. We weren't that reckless.
There goes my "boring" life. And what happens when I tell the father?