Saving the Single Dad by Cheryl Harper really touched a chord deep inside me. I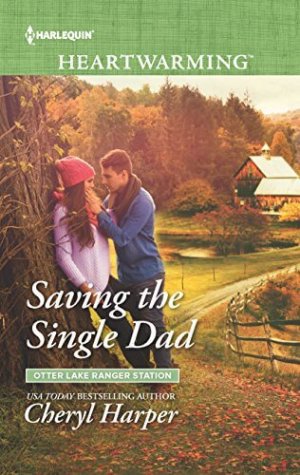 believe because of its theme of "second chances", and because throughout the story, there was such an emphasis on forgiveness, on really learning who people are beneath the surface- and not judging people by their pasts.
In Saving the Single Dad, Christina and her long time best friend Leanne, have grown up together in small town Sweetwater, Tennessee. Many in Sweetwater looked down on their wild behavior as teens. Christina has had quite a bit to overcome around town, and many still don't trust her or think highly of her- particularly Leanne's ex husband Brett– who is not allowing Leanne or Christina to see Brett and Leanne's children. He doesn't trust Leanne due to her recurrent drug addiction, and he doesn't trust Christina due to her past behavior when they were younger.
When Leanne suddenly leaves town without any explanation or warning, Brett is suddenly and reluctantly forced to call on Christina for help with the children she considers her niece and nephew. There's nothing she wouldn't do for these kids. Her caring for young Parker when he is sick, and the way she handles Brett's teenage daughter, causes Brett to take a fresh look at Christina. He starts to realize he can depend on her even as he cannot depend on his own mother, the children's grandmother. As Brett and Christina forge a new gradual trust and understanding, and as they try to track down Leanne to ensure her safety, the books' themes of second chances and forgiveness shine through.
I wholeheartedly recommend Saving the Single Dad- a beautiful romance novel that will have you turning the pages and not wanting to put down this story!
Book Info:

Publication: May 21, 2018 | Harlequin Heartwarming |
His son and daughter – they are her family, too.Christina Braswell would do anything for her divorced best friend's kids, including help their father. Park ranger and sudden single dad Brett Hendrix inspires trust and has everyone's back. But Christina's torn between loyalty and a deepening attachment to the handsome Sweetwater, Tennessee, lawman. Brett's not making it any easier – Christina's finally feeling as if she belongs somewhere.