In Cashmere and Camo (Billionaires in Blue Jeans #3) by Erin Nicholas, now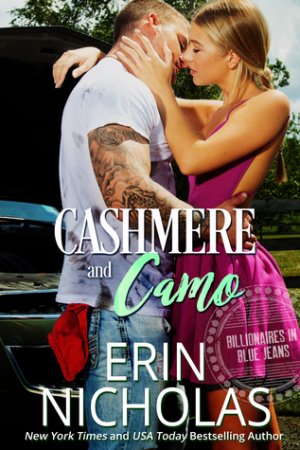 that her sisters have followed and conquered the stipulations set for them in their late father's will to inherit, Brynn Carmichael knows it's her turn to conquer the one stipulation she hasn't yet and that's to date six guys from Bliss, the small town she and her sisters were forced to move to in order to run their late father's pie shop. However, being the shy triplet who would rather be holed up in a lab working, she knows hardly anything about dating. Luckily, she has her best friend, Noah Bradley, to help her. Will Brynn conquer the stipulations set for her and get her own shot at happy ever after?
Noah took a breath. "Okay, So what do you want to do now?"
She thought about that seriously. What did she want? "I want to take myself to the ball."
His smile was full of affection. "Well, I can't let you go all alone. But I can follow along behind."
She studied his face. Then let her eyes wander over him from head to toe. She stepped forward and rested a hand on his chest. "You can come along," she said. "But you have to stop treating me like I'm wearing glass slippers."
He covered her hand with his, pressing it into his chest. "I can try. But you're pretty much a princess to me, Brynn."
There is something really special about Ms. Nicholas's writing, because not only does she have the best opening lines to any one of her stories, but her stories have a way of grabbing this reader's attention right from the beginning and not letting go until the very end and this series is definitely one of her best yet. Triplets needing to meet the stipulations of their late father's will is a very interesting concept and one that this author has done brilliantly. Yet, there's something about Brynn that made this story more captivating than the first two books of this series. Possibly because I can relate to her more than her sisters since I'm a bit of an introvert like she is and I could understand why she needs quiet time.
As for the dialogue, it was compelling and intense due to main characters back stories, especially that of the hero because he's determined to take care of those he cares about. Do guilt and the promises he's made drive him to do everything he can to help his friends and those he considers family the way he does or is Noah just a good guy? Moreover, both the main characters are enthralling, well-developed and I loved how much Brynn blossoms throughout this story in going from the shy woman that needs her quiet time to a more confident woman that knows what she wants, especially when it comes to her and Noah. I also loved her ideas when it came to the pie shop and how she could still use her skills as a scientist to do something new in her life. Yet, what I liked most of all was the bond she shares with her sisters and how they've all adjusted to living in a small town, which is proven by the friendships Brynn has made and the sound advice she gives the townspeople.
"Those billionaires look damn good in blue jeans, huh?" They weren't really blue jeans. They had been blue jeans. But they had been cut off. Very short.
"I see Ava left her heels at home," Evan commented to Parker.
Parker swallowed his drink of beer and shook his head. "Only because I physically took them off of her. She didn't really understand the whole dirt and sand thing."
"She fight you on it?" Evan asked, waggling his eyebrows.
Parker grinned. "Just enough."
Noah sighed. He was jealous of his friends. Very jealous. Super f***ing jealous.
While the hero, he charmed me with his confidence, his kindness and his determination to help Brynn. However, there are moments where I could sympathize with Noah, as he's torn between wanting Brynn while trying to honor the promise he made to her late father, which isn't easy the closer he and Brynn get. Will he be able to honor the promise he made? Yet, what I liked most of all about the hero was the tight friendship he shares with his two friends – Evan and Parker – and that they can talk about anything and everything, especially when it comes to the triplets.
Overall, Ms. Nicholas has delivered a wonderful read in this book where the chemistry between this couple was powerful; the romance was full of exquisite heat and passion that does justice to their intense chemistry; and the ending had me loving the hero's determination to reunite with the heroine after things go awry in their relationship. However, it was the epilogue that wrapped this story up perfectly and had me smiling, as the Carmichael women are really happy and unanswered questions like why their father wanted the triplets to come to Bliss are answered. I would recommend Cashmere and Camo by Erin Nicholas, if you enjoy the friends to lovers trope, small town romances or books by authors Samantha Chase, Erin McCarthy, Melanie Shawn and Melissa Foster.
Book Info:

Publication: May 8th, 2018 | Self-Published | Billionaires in Blue Jeans #3
A friends to lovers romance…and then some.
Run a pie shop with her sisters for a year. Date for the first time at age twenty-nine. Don't be terrified.
Well, she's got the first thing under control at least. Mostly.
But this is exactly what a best friend is for. Advice, pep talks, matchmaking, sex education…
So what if her best friend is a guy? A very hot, tattooed, ex-Marine, mechanic guy? He's definitely well-versed in everything she needs to know. And she trusts him. Who better to teach her the man-woman stuff she's been missing out on?
But there could be one tiny problem. The only person causing her any butterflies…and dirty dreams…is her matchmaker himself.