Say You Still Love Me by K.A. Tucker: Piper is a brilliant, determined, and ballsy executive in her family's real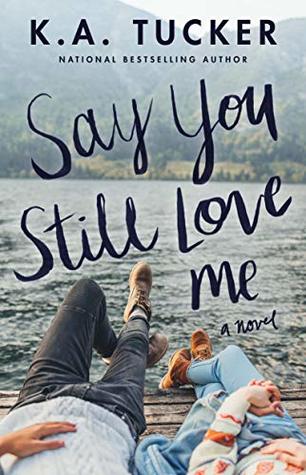 estate development company. She's being groomed to one day take over the business and she's learning a lot of lessons in how to deal fragile male egos and sexism. She's also convincing her ex, a fellow VP, and her parents that she is not and will not be taking him back.
Piper definitely grew up privileged, but she had a life-changing experience during summer camp at Camp Wawa. In a bid to show Piper how the other half live, she had a job as a camp counselor. That summer changed everything as she fell in love with a boy from the wrong side of the tracks, Kyle, and found life-long friendships.
Kyle is the one guy she can't forget, no matter how their relationship ended or how much time goes by. It all comes rushing back when her Kyle gets a job as a security guard in the building where she works. Kyle has definitely changed, and for the better, but he's not exactly jumping at the chance to reconnect.
He clears his throat. "Anyway, I realized as soon as I saw you that this might be my dumbest idea yet, coming here. But it was already too late-"
"What do you mean? Why is it dumb?"
He chuckles softly. "Come on, Piper…We're not teenagers at summer camp anymore."
Despite the time and their very different career paths, the attraction is still there. There are so many questions and things to catch up on since they haven't kept in touch. Getting closure on the past is only one of the hurdles in their way. They have to get to know each other all over again without the benefit of the relative isolation they had all those years ago.
Kyle lifts his head to regard me for a long moment, a curious look in his eyes.
"What?"
"Nothing. I'm still in shock that you're here, with me."
"I know. Me, too." And it still somehow feels like Kyle and me.
Say You Still Love Me is an engaging and multi-layered story with banter, conflict, heat, heartbreak, and surprises. K.A. Tucker delivers an engaging second chance romance while also touching on contemporary issues of money, power, and the treatment of women in the workplace. Ms. Tucker develops an entertaining and interesting cast with a focus on family, friendships, and second chances. Fans of Christina Lauren and Emma Chase will enjoy Say You Still Love Me.
Book Info:

Publication:  August 6th 2019 | Atria Books |
Life is a mixed bag for Piper Calloway.
On the one hand, she's a twenty-nine-year-old VP at her dad's multibillion-dollar real estate development firm, and living the high single life with her two best friends in a swanky downtown penthouse. On the other hand, she's considered a pair of sexy legs in a male-dominated world and constantly has to prove her worth. Plus, she's stuck seeing her narcissistic ex-fiancé—a fellow VP—on the other side of her glass office wall every day.
Things get exponentially more complicated for Piper when she runs into Kyle Miller—the handsome new security guard at Calloway Group Industries, and coincidentally the first love of her life.
The guy she hasn't seen or heard from since they were summer camp counsellors together. The guy from the wrong side of the tracks. The guy who apparently doesn't even remember her name.
Piper may be a high-powered businesswoman now, but she soon realizes that her schoolgirl crush is not only alive but stronger than ever, and crippling her concentration. What's more, despite Kyle's distant attitude, she's convinced their reunion isn't at all coincidental, and that his feelings for her still run deep. And she's determined to make him admit to them, no matter the consequences.