In Scandal Takes the Stage (The Wicked Quills of London, #2) by Eva Leigh, Maggie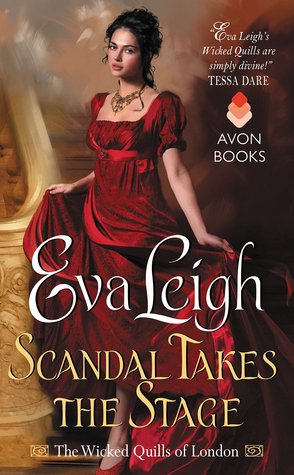 Delamere should be used to the pressure of being a playwright in a busy London theater, but after the success of her last play she fears she won't be able to replicate the magic. So when her writer's block is suddenly lifted after being in the presence of handsome rake Cameron, Viscount Marwood, Maggie hopes she won't regret her involvement with him. After being scorned in the past by a nobleman, she'll have to tread lightly this time around.
'This devil, this rake, this gentle soul who loved beauty and dreams. He was more, so much more, than she had ever believed.'
Cameron lives his life seemingly without a care, attending parties, gaming hells and his favorite of all, the theater. His father, however, has made it clear it's time to settle down. Cam believes a marriage should be based on love, like his parent's, but he is not foolish enough to think he will find the right woman. Until he meets Mrs. Maggie Delamere, the writer of his favorite burlettas. Cam will do anything to assist in her endeavor to find her Muse. Even if it means losing his heart to the beauty at the same time.
"It's been so long since I've had experience with it."
"With what? Pleasure?" At her small nod, he said, "That's a damned shame. You deserve as much as you desire."
"And if my desire is great?" she asked, breathless.
"Then I am the man for you," he replied thickly, his every nerve alight, his body tight.
Scandal Takes the Stage was a dreamy historical romance nestled in the theater district of London. The combination of a scorned female playwright and a devilishly handsome rake was just too good to resist.
"I won't settle or be shackled to a woman I despise, or who despises me. I'll have love," he insisted, "or nothing at all."
I'm really enjoying Eva Leigh's The Wicked Quills of London series so far. Book two continued on with the witty bantering and highly intelligent, extremely likable characters we saw in the first installment. Just like with feisty Eleanor, I loved Maggie's strength and independence. It wasn't easy for a woman to make a name as a serious playwright in the 1800s but she certainly did so. Maggie put Cameron through his paces before giving in to her attraction to him, and I thought that seemed realistic given her history.
Cameron was quite different than I thought he would be after the glimpses of his persona in book one. He turned out to be a dreamer, a lover of the arts, and a very caring man. He definitely did love the ladies, something which he would never deny. But it was rather romantic that he wanted a true, lasting love like his parent's or he would remain a bachelor. So basically, all or nothing. That was different than most rakes I've encountered in the genre. Between that and his love of the arts, Cam was more of a beta hero, and one that was swoon-worthy.
If you're a historical romance fan who loves the give and take of a good verbal sparring match between characters along with the hope of true love, then I definitely recommend Scandal Takes the Stage.
Book Info:

Publication: October 27th 2015 | by Avon | The Wicked Quills of London #2
Eva Leigh's smart and sexy Wicked Quills of London series continues, with a playwright and a Viscount . . . together they may create a scandal worthy of the stage, but can their love last after the final curtain falls?
Successful playwright Maggie Delamere has no interest in the flirtations of noblemen like Cameron, Viscount Marwood. She once paid dearly for a moment of weakness . . . and vows to rebuff the wildly persistent—and irritatingly handsome—scoundrel at every turn. But when pressure to deliver a new play hampers her creativity, an invitation to use his country estate as a writer's retreat is too tempting to resist…
For years, Cam has admired Maggie's brilliant work, and he can't pass up the opportunity to discover if the beautiful, mysterious playwright is as passionate and clever as the words that flow from her quill. He's never offered a lady his bed without being in it, but if it means loosening Maggie's pen—and her inhibitions—he'll do exactly that.
But soon Cam's plans for seduction become a fight for Maggie's heart. He's more than the scandalous, carefree rake society believes him to be . . . and she's the only woman who has ever noticed.