Wrapped and Strapped by Lorelei James: Harlow has followed her own path by traveling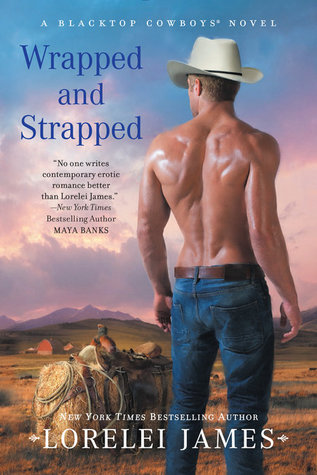 the world and working for humanitarian groups. While between trips, she gets the news that her dad is in the hospital. Her dad never approved of her causes, but she still stays with him at the hospital and follows him back to Split Rock for his recovery. Harlow hasn't been back to Split Rock in three years, even though she loves her sister and niece.
Hugh loves traveling the rodeo circuit in his work for the stock company, but his trips have been significantly cut back in the last few years. He's contemplating his future at Split Rock when Harlow finally returns. He knows that he really screwed things up between them three years ago, and he's determined to show Harlow that their time is now.
"And don't even think about tryin' to sneak past me," he warned. "I've always had a strange kind of radar when it comes to you."
"Then that radar should be telling you to get as far away from me as fast as possible."
Hugh's lips twitched. "I'll take that under advisement."
The chemistry is still there, but Harlow is reluctant to act on it. She was already burned once by Hugh and another relationship, and she's only there to help her family. In an effort to sway her, Hugh calls in a favor and comes through on a bet that gives her some much needed breathing room from her recovering father.
Hugh is willing to take whatever Harlow will give and his determined pursuit breaks down her defenses. They are reconnecting and fully enjoying Harlow's stay. Hugh would usually be looking forward to traveling for the rodeo circuit, but he doesn't want to lose any time with Harlow. Since they both love to travel, he invites her along on a rodeo trip and plans to put her to work.
"Doll, you're more than qualified. And anything you don't know how to do, I'd teach you."
Yes. This is exactly what she needed.
"I know, darlin'. That's why I asked you."
Harlow jerked her head back. "I didn't mean to say that out loud."
Wrapped and Strapped is an entertaining second chance romance complete with nosy family and friends. Lorelei James created two very different characters who were looking for a change in their life. Ms. James also created some memorable and unique secondary characters in the Mud Lilies. Fans of Vicki Lewis Thompson will enjoy Wrapped and Strapped.
Book Info:

Publication: November 3rd 2015 | Signet | Blacktop Cowboys #7
In the new Blacktop Cowboys® Novel from the New York Times bestselling author of Hillbilly Rockstar strange bedfellows find common ground after the lights go down…
Flower child, vegetarian and humanitarian Harlow Pratt and gruff and strapping cattle ranch foreman Hugh Pritchett have been taunting each other for years. Hugh thinks she's nothing but a spoiled rich girl, and he's had enough of that life with his ex-wife. Harlow thinks Hugh is an ill-mannered trouble-maker who wouldn't know fun if it bit him on his tight denim-clad butt.
When they're forced together at the Split Rock Ranch and Resort, everything changes. They might be polar opposites, but working out their differences skin to skin, in the dark, seems to help their incompatibility a lot. But when trouble from both their pasts comes calling, Harlow and Hugh have no one else to lean on. Can they trust one another enough to make it through the hard times together… or will their tentative truce fall apart?