In Scandalous Secrets by Synithia Williams, senatorial candidate Byron Robidoux had always had feelings for his best friend, Zoe Hammond.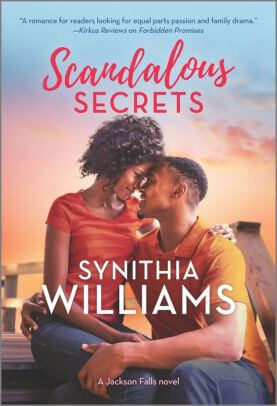 Thirteen years earlier, when she showed up on his doorstep beaten and pregnant, Byron told everyone he was the father in order to save Zoe from having to further deal with her abusive boyfriend. He wanted to marry her and raise her daughter as his own, but his parents ran her off. Now her ex is about to be released from jail, Zoe is receiving threatening emails, and someone is threatening Byron to reveal Zoe's daughter.
In order to protect Zoe and Lilah, Byron has to bring them into his political campaign, claiming Lilah as his publicly. While Zoe and Bryon reconnect, they both realize their feelings for one another haven't gone away. Complicating matters is Byron's engagement, which isn't out of love, but a political match, and Byron's father, Grant, who is less than thrilled to have Zoe back in the picture. Will the pair finally be able to overcome the threats and lies and find the happiness they've both been searching for?
Trigger warning, View Spoiler »this book does have some references to domestic abuse. The references aren't graphic, but if domestic abuse is a trigger for you, you may want to take this into consideration before reading this. « Hide Spoiler
This is the second book in the series, and I would recommend reading them in order. I haven't read the first book, and I was left wondering what happened between Byron's sister Elaina and his best friend Travis, and how they ended up divorced with Travis remarried to Byron's other sister, India. I was also confused as to how the whole family was ok with this. I think I would have understood it more, along with the family dynamics in general, if I had read the previous book.
The book felt like it focused more on Byron's Senate run instead of the romance. Because of this, it felt like the romance between Byron and Zoe was somewhat lacking. It probably didn't help that Byron was engaged for a portion of the story, which also hindered developing anything between the pair. It did give them time, however, to redevelop their friendship.
I would have liked to have seen more scenes with Byron and Lilah. Byron seems to care about her, but based on the amount of time they spent together, it felt like it was more because he cared for Zoe, and she was part of a package deal. Lilah also quickly becomes attached to Byron, without really knowing him. All she knows is that he was trying to protect them, and apparently that's enough for her to adore him. There's no real build-up of their relationship though.
While I had some issues with the story, I still enjoyed it overall. The characters were interesting and the family dynamics were complicated. It kept my attention from the beginning to the end, waiting to see what was going to happen next with both the campaign and the family. Fans of second chances, reconnecting friends, friends-to-lovers, and political romance stories will enjoy this book.

Book Info: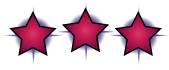 Publication: August 25, 2020 | HQN Books | Jackson Falls #2
Senatorial candidate Byron Robidoux always does the right thing. And, after years of focus and dedication, his life and campaign are going exactly to plan—until a blackmailer jeopardizes everything. No one is supposed to know that thirteen years ago, Byron told a lie to protect a college friend. And now that lie could destroy his career…and threaten the woman he never stopped loving.
Zoe Hammond hardly recognizes the refined and handsome politician Byron has become. The last time she saw him, he was the friend who saved her life by claiming to be the father of her unborn baby. For that, she'd do anything for him. Except Byron's world of wealth, reputation and deceit isn't a place where Zoe or her daughter belong. But when a menace from the past comes calling again, staying with Byron is best for them all. And, as the searing attraction between them builds, they soon realize some things are worth fighting for…especially love.