Second Chance Charmer by Brighton Walsh is a heartfelt, fan-yourself-worthy, small-town romance that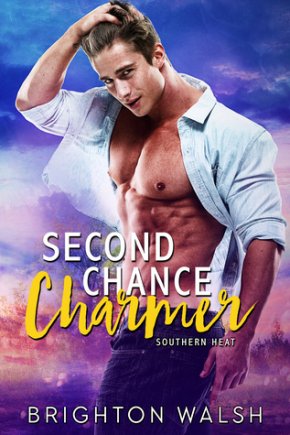 you do not want to miss.
Finn and Willow loved one another in high school, but Finn left town without explanation and broke her heart. She's never really gotten over him or her anger over his actions, so her feathers are ruffled when he comes back to town ten years later to open a bar. She's ready to ignore him, but Finn realizes he lost the best thing he ever had and sets out to win her back. He's swoony and sexy, and their chemistry is off the charts.
Although they can rekindle their relationship in the bedroom, they still have storm clouds hanging over their heads outside of it, mainly Willow's father. He's never liked Finn and Willow has always sought to please him. Finn has to convince her to forgive him for the past and that he is worth displeasing her father.
Brighton Walsh's Second Chance Charmer has sizzling love scenes, flirty banter, engaging characters and copious amounts of charm, and it's a second-chance romance that hits all the right spots.

Book Info:

Publication: 3/19/18 | Self-Published – Brighton Walsh|
Willow Haven's content. Okay, that's a lie, but she has been trying her damndest. Trouble is, it never sticks. Second oldest in a family her town was named after, she's always felt the pressure. From the townspeople, from her sisters, but most of all from her daddy—the original Good Old Boy and Havenbrook's reigning mayor. The only time she didn't feel that stress had been those blissful months spent in the arms of the resident bad boy. The same one who broke her heart beyond repair when he left without a word.
Life hasn't come easy for Finn Thomas. He's had to claw and fight for everything he's ever had—and truth be told, it hasn't been much. He spent the first eighteen years of his life living so far from the wrong side of the tracks, he couldn't even see them through his trailer window. The only thing that ever came easy for him and made his sorry ass happy was the one girl he loved with all his heart. And the one thing he had no choice but to leave behind.
When an opportunity arises to return to his tiny, southern hometown and open the first bar in a formerly dry county, he jumps at the chance. That won't win him points with the mayor, who's hell bent on making Finn's life a nightmare for sullying his namesake. But too bad for Mayor Haven, Finn's got his sights set on more than just the town, and this time he won't be scared off quite so easily.