Back to the Lake Breeze Hotel by Amie Denman: I loved "returning" to Starlight Point in this newest novel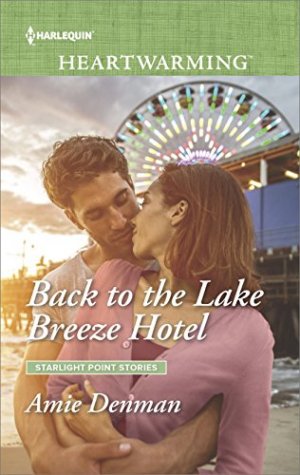 in the Starlight Point series. What a treat to read more about the Hamilton family and their adventures in running this special theme park. Amie Denman is such a gifted story teller, that I feel I am right there on the midway!
In Back to the Lake Breeze Hotel, readers meet Alice, the new special event coordinator for Starlight Point, and Nate, the new PR coordinator. These roles require Alice and Nate to have considerable contact with each other- which creates great friction as they were once engaged until Alice canceled the night before their wedding!
Nate has never forgiven Alice, and does his best to limit his interactions with her now to the necessary professional ones, as he does not wish to be near her. Alice has never quite gotten over Nate, despite having broken their engagement. This creates several awkward scenes where they try to hide their past. Yet, Alice becomes surprised and confused when Nate seems to start seeking her out.
I do not wish to create "spoilers"….I do invite fellow readers to pick up a copy of Back to the Lake Breeze Hotel. I think you will also be entranced!

Book Info:

Publication: March 1, 2018 | Harlequin Heartwarming | Starlight Point Stories Book 5
They lost each other once… Now they have one more chance.
Every wedding has a happy ending—except for Alice Birmingham. She's never forgiven herself for leaving the love of her life at the altar five years ago. Nate Graham hasn't forgiven her, either. Now they must work together at Starlight Point amusement park, caught between the mistakes they made…and a love that refuses to stay buried in the past