Secret Garden by Cathryn Parry: Rhiannon and Colin spent every summer together until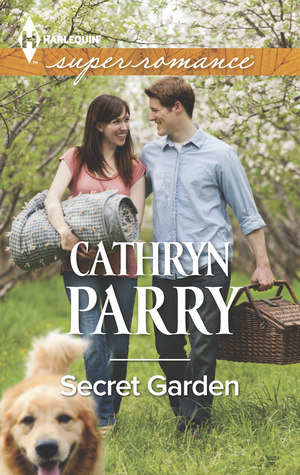 his father leaves his mother. They promise to keep in touch, but a horrific incident prevents Rhiannon from contacting him, so he never bothers to reach out. Forced back to Scotland to see his grandparents, Colin runs into Rhiannon, only she isn't the happy, outgoing girl he used to know.
Rhiannon now suffers from agoraphobia, a fear of public places. She never leaves the boundaries of her parents property. While everyone around her seems to tip toe around her fears, Colin refuses to. He opens Rhiannon's eyes, making her realize there's more to life than her self-made prison. While others try to make decisions for her, he makes her make them herself. Through his help, she gradually gains confidence and takes steps to heal herself.
I really liked how Colin never gave up on her, even though Rhiannon often felt like she would never be brave enough to leave the property. It would have been easy for him to just give up and leave, but he refused to let her keep living only a half a life. When he could tell people were walking on egg shells around her and trying to run things for her, he got angry on her behalf because, even though they meant well, they were enabling the problem instead of trying to find a solution. While there were times he himself didn't know how to help, he never stopped trying.
There were a couple of things that bothered me in this book though. The first was that I thought Colin forgave his grandparents much too quickly for the ruse they used to get him to return to Scotland. The lie was terrible and, I thought, inexcusable. They should have admitted the truth to him instead of saying what they did.
The second thing is that I would have liked to have seen some closure between Colin and his father, who he hadn't seen since he was a child. Colin deserved an explanation as to why his father just took off and never bothered with him again. Instead we're basically told that he'll see his father at Christmas and that was that. That part felt incomplete.
Secret Garden is about learning to overcome fears. It's about learning to take a leap of faith knowing that someone will be there to catch you because they believe in you even when you don't believe in yourself. Cathryn Parry has written a sweet story that just about anyone can relate to, because while we're not all agoraphobics, almost everyone has fears they'd like to push past.
Book Info:

Publication: August 1, 2015 | Harlequin Superromance |
A reclusive artist in the Scottish Highlands, Rhiannon MacDowall is an enigma. Few people know about her carefully structured life, or why she hides within the protection of her family's estate. Until an errant golf ball changes everything…
Colin Walker was once Rhiannon's best friend. Now he's a pro golfer on the verge of ruin who's returned to Scotland on family business. But as much as Rhiannon tries to keep Colin out, their connection remains-and turns into something both exhilarating and terrifying. Something that threatens the foundations of Rhiannon's safe little world.