Secret Heir Seduction by Reese Ryan is a sexy second chance romance and part of the Texas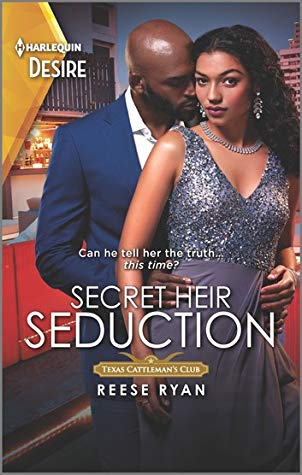 Cattleman's Club: Inheritance series of interconnected books and plot lines but with complete couple romances in every story.
Darius Taylor-Pratt has experienced the shocking news that he's an heir to the Blackwood fortune by way of his now deceased and new to him father, Buckley Blackwood. Darius thought he was in Royal to meet about an investment in his athletic wear company Thr3d. Now he's found out that while that's definitely part of why he was asked to come to Royal, it's also to introduce him to a family he never knew about, since his parents never told him who his real father was (though he did know his dad was not his biological parent). Then comes another shock. The woman who is designing the jewelry for his half sister's wedding is none other than his former girlfriend, heiress Audra Lee Covington.
When Darius walked away from Audra and their relationship 5 years earlier she was heartbroken. He'd never explained why he'd backed away from what they had and she'd picked up the pieces and moved on with her life. She'd dated since and had recently broken up with the man in her life who just hadn't given her the sparks she'd had with Darius. Seeing Darius again proves that those sparks still exist, even though she's a lot warier of them this time around. But with them staying in houses next to each other, keeping away from each other is a challenge, especially when the idea of resuming where they left off but in a time limited affair is really tempting. Darius is still keeping secrets though, like the fact that he's now a Blackwood heir. Is their second chance doomed right from the start?
I really enjoy Reese Ryan's characters and writing style and this is another exciting story in her repertoire! Darius and Audra both weren't completely honest with each other the first time around, with Darius keeping his estrangement from his parents from Audra, and Audra knowing her parents likely wouldn't approve of Darius and keeping him out of her family fold. Trust is fragile and they didn't have it then. Falling into a sexual relationship now is easy for them as they still are very attracted to each other. But Darius is keeping his own secrets again, this time about his relationship to the Blackwood family and that Audra's client is actually his half sister. He'll have to come clean if he's serious about keeping Audra in his life this time around.
There are lots of characters in this story, some from earlier books in the series and some who will come up in later books but the author does a good job of explaining who is who and why they are important to the story, while still delivering a focused romance. There are some sexy love scenes for Darius and Audra, and just as importantly, character development as they both realize the mistakes they made in the past and what they need to do if this second chance is going to become permanent. I liked seeing Darius forge relationships with his new siblings and enjoyed the details of both their careers in fashion and jewelry design. It's an enjoyable and entertaining romance and another great addition to the series!
Book Info:

Publication: Mar 01, 2020 | Harlequin Desire | Texas Cattleman's Club: Inheritance #4
Can he tell her the truth… this time?
Will he risk everything for a reunion?Will she give him the chance?
Discovering he's a long-lost heir isn't the only surprise awaiting Darius Taylor-Pratt in Royal, Texas. He's next door to his ex after five long years. Darius broke off his red-hot relationship with designer Audra Covington without explanation. He still has regrets…and truths he's hiding. Rekindling their flame may cost him…especially when new secrets surface to threaten their second shot at seduction.