In Secrets Gone South by Alicia Hunter Pace, Arabelle Avery used to have the perfect life. She had her sister-in-law and cousin as her best friends and her job as a doctor to make lives better for those in need.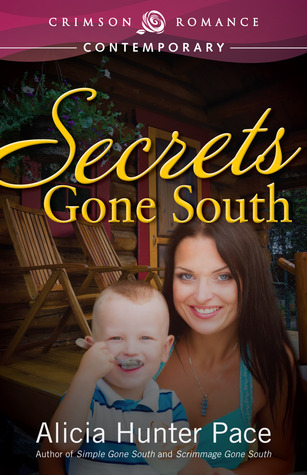 But after the death of her sister-in-law Arabelle was very devastated, but she had her bother and niece left to care off. Only then her brother remarried and Arabelle could not adjust to another woman taking the place of her best friend. She was happy for her brother, but in her heart her new sister-in-law is just someone that didn't really belong in that picture. Feeling horrible and not wanting her brother to get a wind of her true feelings she went to a bar to drown her sorrows. And found herself in Will's arms soon after that.
Will Garrett has always felt like the boy from the wrong side of the tracks. When he was a teenager he was a busboy in the Merritt County Club where Arabelle spent much of her time. She was always polite to him and thankfully never humiliated him by tipping him for his services. Now that he finally got Arabelle to see him as a man he hoped that it would be more than a one-night stand. But she soon dashed those hopes by leaving the country for her job.
But things are not always what they seem, soon after Arabelle left home she found out that she was pregnant and tried to contact Will only to have a woman who claimed to be his fiancée answer the phone. Which led to Arabelle contacting her cousin who then adopted her son in Switzerland. Only after the adoption went through and she returned home for a visit did she find out that Will was never engaged to begin with.
Now things have gotten very complicated, for Arabelle's cousin died and left her as guardian of her own son. But since nobody knows that she was pregnant she will have to pretend to be his adoptive mom and not his biological mom and do everything she can to make sure that Will doesn't see her son.
Once Will discovers the truth that Arabelle has been hiding from him he cannot forgive her, but she will no longer be able to keep him from his son, even if that means that they have to get married. The only problem is that Will wants everyone to know they truth about their child, but Arabelle is afraid to face the consequences of her actions by telling everyone the truth.
Arabelle and Will have a tough road ahead of them. They love each other and their son, but lies, half-truths and a woman obsessed with Will may just end up separating them forever before they both realize that what they really want is to be together.
If you want a heartfelt and emotionally deep read, don't miss Secrets Gone South by Alicia Hunter Pace.
Book Info:

February 24th 2014 by Crimson Romance
No matter how many critics call him an artisan or how much money people are willing to pay for his handcrafted furniture, Will Garrett will always be the son of a drunk from Mill Town. Though he has admired Dr. Arabelle Avery ever since his teenage busboy days at the Merritt County Club, he has no aspirations where she is concerned. A boy from across the tracks doesn't go calling on a state senator's daughter. But he is stoic about all that. He has his work and the home he built with his own hands in the woods where he draws his strength and serenity.
At one time, life was easy for Arabelle Avery. She was smart and pretty, with her sister-in-law and cousin as best friends. When her sister-in-law wrapped her car around a tree, Arabelle was devastated. The day her brother remarried was a hard day, and going to Will Garrett's arms for the comfort was unexpected but easy. When she finds herself pregnant and hears, incorrectly, that Will is engaged, she flees to Switzerland to lick her wounds and have her baby. Desperate to do the best thing for her child, she allows her cousin to adopt him—a decision she immediately regrets.
When a twist of fate reunites Arabelle with her child, she moves home to Merritt, where she is determined to keep her secret and raise her child in peace. But once Will gets a look at his son and guesses the truth, Arabelle's life spins out of control.
Can they find the path to what's best for their son—and each other?