Secrets of a Fake Fiancée by Yahrah St. John is a sexy fake relationship romance full of passion and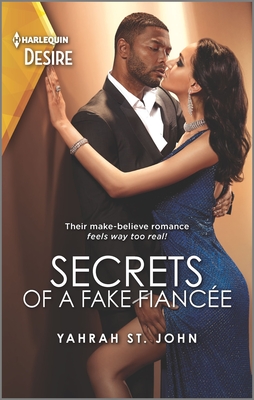 family drama. It's the last book in the Stewart Heirs series.
Morgan Young is ready for her birth father to find out the truth – that she's his daughter. At the wedding of her boss who happens to also be her half brother (!), she confronts him with the truth, but it backfires when her father refuses to accept her news. Finding solace in a few drinks, she meets Jared Robinson who, despite his playboy reputation and attraction to Morgan, sees that she gets home safely.
Jared works in the marketing and public relations department of his family company, Robinson Holdings. He'd been happy with that role but with the absence of his brother Chris who'd taken off with an exotic dancer, his grandmother has appointed him as interim CEO. The board of directors wants to see a more stable person at the helm so his grandmother thinks it's time he finds a wife and settles down. To prevent her from matchmaking, he tells he her already has a girlfriend, then has to think fast to come up with one!
Fortunately, he comes upon Morgan about to do a tell all interview with a gossip blogger that he knows would ruin any chance she had of reconciling with her real father and is able to head off her mistake and offer her a deal: pretend to be his girlfriend and get the wealth and privilege that come with his position in life, as well as a ready made family – his. Plus he'd help her with his connections to get a new job now that she'd quit working for her brother. The attraction between them would be icing on the cake. Morgan accepts and finds it's easy to fall into the role, but what will happen when their limited time deal is up?
It took a bit for me to warm up to Morgan as I didn't think her approach to revealing her identity was a very good one (in the middle of her brother's wedding!). Jared's reputation as a playboy is well earned, but it was good to see he didn't take advantage of Morgan when she'd been drinking. Their deal starts out as a no sex arrangement (Morgan's terms) but that doesn't last long. The attraction between them is sizzling and leads to some sexy love scenes.
There's definitely a lot of family drama in this story! Plenty of time is spent with both their families – Jared's grandmother is quite the character, a strong, smart woman who sees in Jared a man who can be a real leader if he puts his mind to it. She and Morgan get along well, and being accepted into Jared's family makes Morgan realize that she wants it to be for real reasons, not fake ones. Morgan also gets to become friends with her half siblings on her own terms independent of what their father thinks and I liked seeing those friendships develop.
While Morgan and Jared are dealing with family issues, they are also developing a stronger than expected relationship with each other. There's some extra drama with an ex of Jared's that I didn't really think was necessary to the plot, but gives them the push to decide if they want to make their fake relationship into a real one. Fortunately, they get their happy ending as a couple, and with their families too. I liked how it all came together in the end. Fans of the series will be happy with this finale!
Book Info:

Publication: May 01 2020 | Harlequin Desire | The Stewart Heirs #4
Their make-believe romance
feels way too real!
His proposal is a deal she can't refuse…
Cruelly rejected by the Stewarts after revealing herself to her birth family, Morgan Young turns to Jared Robinson for comfort. The reformed bad boy proposes they pretend to be a couple to show his own family he's settling down. And before long, they aren't pretending! Yet just as Morgan begins to feel accepted, secrets and all, a vicious rumor about Jared's past threatens them both…