Secrets of a One Night Stand by Naima Simone finds Achilles Farrell with quite the shock; he's the son of a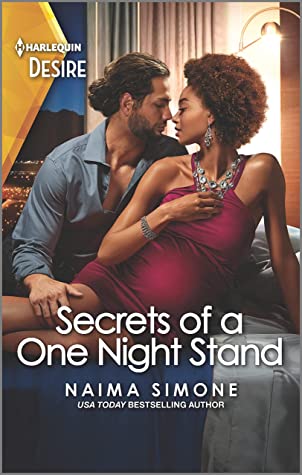 billionaire who has left him, along with two half-brothers he didn't know existed, the company with the stipulation that they all had to work there for at least a year. Achilles is determined to go back to his remote life after the year is up, determined to keep everyone at arm's length, until he meets Mycah Hill at the bar. Mycah doesn't know who Achilles is when she agrees to a one-night stand, but she quickly finds out, especially when she applies for the position of Vice President of Operations for the company Achilles now co-owns.
Achilles doesn't feel like he belongs in the world of the rich, and Mycah's parents cement his feelings. Mycah doesn't feel like she belongs there, either, despite having grown up in that world. When the pair find out Mycah's pregnant, she doesn't want anyone to find out he's the father for fear of people making assumptions about how she got her job. Achilles feels that she's ashamed of him and his background. Will they both be able to admit their real fears to one another and find a path forward together?
This is the second book in the Billionaires of Boston series. I haven't read the first book in the series, and I did feel I was missing some background, especially when it came to Cain and how he felt about discovering two brothers, especially when he was the only one of them that had been raised by their father. It also felt like the book had immediately picked up right after the reading of the will, which doesn't take place in this book. I'm not sure if book one ended there, but the way this book starts off feels like readers are expected to have already known what was going on. It didn't take away too much from the story, but I would recommend reading Vows in Name Only first.
Mycah is supposed to be a smart woman, yet she lets her parents walk all over her. She also knows how Achilles perceives things, but she doesn't want to go against her parents. I would have respected her more if she stood up more for what she really believed and felt, rather than trying to cater to people who only used her.
Achilles has had a rough life, and you can't help but feel for him and understand his insecurities. Mycah's behaviors certainly don't help him, either. His struggle between keeping his brothers at arm's length and wanting to be close to them is realistic; I really appreciated that Cain and Kenan refused to give up on him.
The book has a couple time jumps, so one minute you're in the current time, then the next you're a few months ahead. On one hand I liked that it pushes the story forward, but on the other hand, it also left me wondering what happened during those missing months.
Secrets of a One Night Stand is about two seemingly insecure people struggling to find and accept their places in the world. I would recommend it to readers who enjoy opposites attract books and stories about billionaires, or, in this case, reluctant billionaires.

Book Info:

Publication: August 24, 2021 | Harlequin Desire | Billionaires of Boston #2
Finding out her previous one-night fling is her new boss is the shock of Mycah Hill's lifetime. She can't say no to being VP for software CEO Achilles Farrell—she's finally made her career dream come true. But knowing he's so close… It's only a matter of time before she's back in his arms. It can't end well. Achilles's tortured family history means he's not up for sticking around long-term. But Mycah's surprise pregnancy is about to change everything.