Isn't It Bromantic? By Lyssa Kay Adams: For all of his big burly Russian hockey player looks Vladimir Konnikov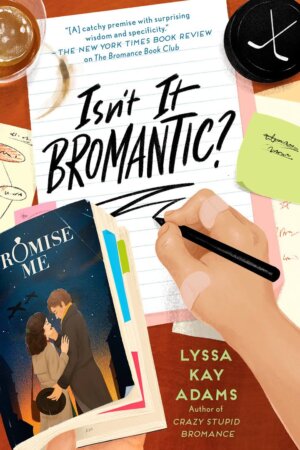 is actually just a big romance loving softie. Having watched each of his friends find their true love and helping them build their happily ever after, Vlad can't help but feel like a total fraud in their group, with his own wife Elena not even living with him. However ever the romantic Vlad has not given up hope that his childhood friend and crush, Elena will finally come home to him, but Vlad's soft heart receives a major blow when instead of coming back to him Elena informs Vlad that she wants a divorce and that she is heading back to Russia.
With his heart fully crushed Vlad shuts down and exiles himself from all of his friends in the Bromance Book Club to wallow in his own pain, but when tragedy strikes and Vlad is badly injured during a hockey match he has no choice but to let his friends back in, especially now that his wife is back home and helping him recover. With his wife finally back home with him; will Vlad finally be able to get his very own happily ever after with the help of his bros?
"Three things in life terrified Vlad. A flare-up without a bathroom in sight. Running over an animal with his car. And this. Waking up to find his friends circling his bed, their arms crossed and eyes narrowed in matching expressions of resistance is futile. He was about to get book clubbed."
All her life Elena has felt like a burden, like when her father would leave her in the care of the Konnikov family while he was out chasing a story, but things only got worse when her father went missing and Vlad ever the sweetheart swooped in to save her. However all this time Elena has been convinced that Vlad married her out of pity and that she has a burden for him to carry, which is exactly why she wants to set him free and return to Russia; even if it means breaking her own heart in the process.
But when Elena receives a call from Vlad's team doctor informing her that Vlad has been badly injured, she doesn't think twice about rushing to his side. Thinking that helping take care of Vlad while he recovers can finally be her way of saying thank you to her best friend. The only thing being that Elena never planned on developing such a strong pull to her husband or his cute little friend group. With a few good pushes from the Bromance boy and The Loners will Elena finally realize how deeply in love with her Vlad has always been or will their constant miscommunication once again get in their way?
"His mouth made love to her. There was a sweetness to his passion, a tenderness in his brute strength. He kissed with an innocence that spoke of purity but a gentle proficiency that suggested experience, and she did not want to think about that."
Isn't It Bromantic has to hands down be the BEST book that I have EVER read! I loved this book so hard! Right from the very first time we got to meet the Russian I knew he would have one great story and boy did Adams knock it right out of the park! This book checked every single box; swoony romance goodness, silly banter, some crazy side characters and a good mix of spy/mystery drama!
"But nothing he wrote in his own book would ever come close to capturing how this felt. The completeness of handing your whole heart to someone who gave hers back in return."
Right from the get go we get to see how cute and kind Vlad is, with his care pack for all kinds of stomach issues (thank goodness he got that under control, no really thank goodness). There is just something about this guy that wormed right into my heart, I loved that he was genuinely a great guy that welcomed everyone into his heart, even the neighborhood pets. I absolutely loved that he was creating his own romance novel and that it was so interlinked to his own relationship with Elena, and that the guys were so invested in helping Vlad finish the book.
As for Elena, as much as I wanted to dislike her for crushing Vlad's heart, it was impossible not to want to root her own, after all she herself had been harbouring feelings for her husband! I loved that she was so driven to finding out what happened to her father and all the twists and turns that came with this investigation. However it was watching her interact with The Loners that stole the cake, this was just priceless. I loved seeing them go from suspicious of her motives to helping her and Vlad find their way back to each other.
"We have spent a lot of time discussing the Russian's ass tonight."
"It's worth talking about,"
The secondary characters in this novel were absolutely brilliant, not only did we have all of the Bromance boys but we got a new set of crazy gals that Vlad called his family. As always there is never a dull moment when the guys get together and did they deliver the laughs! The entire helping Vlad bath situation had me laughing so hard I cried! Got to love these guys! However The Loners easily took top spot this time, I loved how these ladies welcomed Vlad into their little single ladies group as one of their own and continued to have his back when Elena rollback into the picture. Also, all I am going to say is, The Cheese Man, you will know when you find him, be ready!
Isn't It Bromantic was hands down THE BEST novel that I have read this year! This book had me jamming to Bonnie M's Rasputin while swooning over all the cuteness that is Vlad and Elena! This is an absolute MUST read! Now I need more bromance goodness in my life, I can't wait for Lyssa Kay Adams next book!

Book Info:

Publication: July 20th 2021 | Berkley Books | Bromance Book Club #4
With his passion for romance novels, it was only a matter of time before Vlad wrote one.
Elena Konnikova has lived her entire adult life in the shadows. As the daughter of a Russian journalist who mysteriously disappeared, she escaped danger the only way she knew how: She married her childhood friend, Vladimir, and moved to the United States, where he is a professional hockey player in Nashville.
Vlad, aka the Russian, thought he could be content with his marriage of convenience. But it's become too difficult to continue in a one-sided relationship. He joined the Bromance Book Club to learn how to make his wife love him, but all he's learned is that he deserves more. He's ready to create his own sweeping romance—both on and off the page.
The bros are unwilling to let Vlad forgo true love—and this time they're not operating solo. They join forces with Vlad's neighbors, a group of meddling widows who call themselves the Loners. But just when things finally look promising, Elena's past life intrudes and their happily ever after is cast into doubt