Seduced in the City is the third story by Jo Leigh that features the ethnic area of Little Italy, New York City as the backdrop for a sexy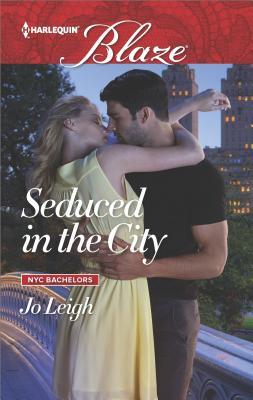 romance involving one of the Paladino brothers. The family has a trust fund, known only to them, that has secretly been responsible for the rent control restrictions imposed on the area that have made it possible for local long term businesses and residents to thrive. One of those businesses is Moretti's, a family run pizza place. Sara Moretti is home from college where she is pursuing a graduate degree in journalism. She's writing her master's thesis on Little Italy with an emphasis on the history of families in the area and how they compare to official historical records. She's helping out with the family business while she's home, and when she runs into Dominic Paladino, it brings back a slew of teenage memories, none of them good.
Dom is the youngest brother in the Paladino family, and currently works in the family construction business . Having just finished his graduate studies, he's hoping to branch out on his own and get a job in public relations with a reputable company. When he runs into Sara while picking up a meal order, he's struck by how much she's changed. No longer the plain, somewhat shy teen, she's now a beautiful woman. He also remembers the friction between them as teenagers, though for different reasons. When Dom comes to Sara's rescue preventing a mugging, her opinion of him goes up several notches. He's not the arrogant kid she remembered, or the one who broke her heart without knowing that she'd had a serious crush on him. One thing leads to another, and soon enough those old memories are being replaced by much more pleasant and definitely steamier ones! Can their fling turn into something real and long lasting?
I read one of the previous stories in this series and really enjoyed it, so I was quite delighted to pick up this one to review as well. The Paladino family has an interesting history in the area and the scenes with the brothers are quite fun as they like to tease each other. Dom's older brother Tony is getting married so some of the plot revolves around that, as well as the modernizing of their construction business and Dom's job hunt. The setting of Little Italy is colorful and dynamic, making for an enjoyable backdrop to the romance.
Dom and Sara certainly have chemistry now as adults. There is a slow revealing of what happened during their teenage years including how they were both culpable for certain events. Letting bygones be bygones, they slip into an easy affair and their love scenes are very sexy. They have some family complications, due to their families attending the same church (and both having mothers who'd be happy to see them together), as well as Sara's teenage sister who has a crush on Dom. Sara's research for her thesis leads to some interesting discoveries and tension between her and Dom that gets resolved just in time for their happy ending. This is an enjoyable and entertaining story and if you haven't read the other Paladino brother stories, you'll want to pick them up too!

Book Info:

Publication: Mar 21, 2017 | Harlequin Blaze | NYC Bachelors #3
Everyone loves New York…but they lust after red-hot bachelor Dom Paladino!
In the loud, vibrant Little Italy community, family is just as important as history. Dominic might be the youngest–and most charming–of the Paladino brothers, but he wants a future that doesn't involve the family business. He also wants temptingly sexy Sara Moretti…and he's not letting a little thing like -bad blood- keep him away.
Sara's never forgiven Dom for hurting her feelings all those years ago. So how come her heart beats like crazy every time he stops by her family's pizza shop? Suddenly she's having a seriously hot, X-rated fling with the guy she used to hate. It can't possibly last. But in the Big Apple, half the fun comes from rewriting history…