In Seducing Her Rival by Seleste deLaney, Mercedes Vega wins an all expenses paid cruise. She feels guilty in leaving behind her charity work for Better Todays, the charity she and her best friend created together for underprivileged children until her best friend, Kelsey convinces her to mix business with pleasure by networking, and gathering wealthy donations for their charity while on her cruise. The first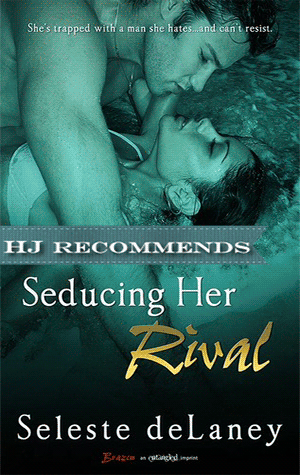 person she meets on the cruise is Lucas, a billionaire who is obviously interested in her from the first glance and vice a versa. After a night of really hot sex on their first date, Mercedes gets to know that Lucas is after the land she wants for her charity. Unwilling to give up, she formulates a plan to make the charming playboy fall in love with her and back out of the property deal. But who is seducing whom when hearts get involved along the way..??
"I just want you, Mercedes, every part of you. I don't know if it's your beauty or your heart or the fact your smart mouth never backs down from mine. All I know is the minutes when I'm with you are the brightest ones in my day, but I can't handle only having part of you."
Seleste deLaney has written a good story with a solid plotline which does not fail to capture your attention from the first page. The characters are developed and have proper background stories to explain their present actions. Lucas was generous, sexy and charming hero who wanted a woman who would not judge him on his money and rather on his character. Mercedes was a strong, feisty Latina full of sarcasm at times whose life had changed following an unfortunate incident. The steam level was high and according to the standards of Brazen and I quite enjoyed the steamy encounters between Lucas and Mercedes which were full of passion. Even their conversations were equally enjoyable to read due to the interesting replies they gave each other.
There was no way she'd let Lucas break her heart and toss her to the curb.
But he hadn't acted like that guy last night either.
Who the hell was Lucas Bellamy at his core? And
what kind of wrench would it throw in her plans if she
ended up finding out?
Overall Seducing Her Rival by Seleste deLaney is a very hot romance with a philanthropic twist which does not fail to entertain you. Recommended for Seleste deLaney lovers and anyone who likes a hot romance..!!
Book Info:

 HJ Recommends
Published October 28th 2013 by Entangled Brazen
She's trapped with a man she hates…and can't resist.
When cruise ship turbulence sends children's charity guru Mercedes Vega—and her tropical cocktail—flying into a mysterious stranger, she's convinced her free vacation is a dream-come-true. But Lucas Bellamy isn't just sexy as sin and richer than God. He's her business rival, determined to outbid her charity for the land she desperately needs…a fact she doesn't learn until after a night of mind-blowing, toe-curling sex. Unwilling to give up, she formulates a plan to make the charming playboy fall in love with her and back out of the property deal.
Lucas is drawn to Mercedes, but he won't stand down—after all, he has promises of his own to keep. But one scintillating night with the enigmatic brunette leads to another, and before long, it's unclear who's seducing who, leaving Mercedes wondering whether the man she's supposed to hate is the only salvation from her past.