Seducing His Convenient Innocent by Rachael Thomas is an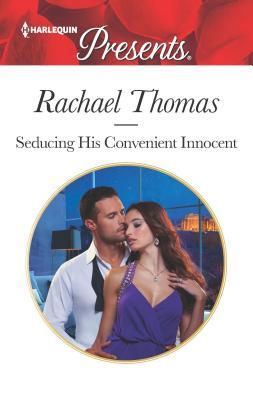 enjoyable slow burn romance between an accomplished pianist and the wealthy Greek man who falls for her beauty and talent.
Rio Armstrong is ready to take the next step in her budding relationship with Greek businessman Lysandros Drakakis, brother of her best friend Xena when an attempted assault causes her to pull back, not just from him, but from her music. She breaks things off with him, and it would have stayed that way except that a car accident injures Xena and she rushes to her side.
Xena has amnesia from the accident and doesn't remember what happened to Rio, or that Rio and Lysandros are no longer together. When she sees them both in her hospital room, they pretend to be a couple, not wanting to risk further trauma to Xena. When Lysandros wants to take Xena back home with him to Greece to recuperate, he insists that his 'girlfriend' accompany them, and Rio can't refuse. She feels badly for not having had the courage to confide in Lysandros about why she broke things off, and the recurring PTSD she still has from the assault. Will being with him again, pretending to be in a relationship, give her the strength to tell him the truth and give them a second chance?
I really enjoyed this story. Rio is a virgin, and had just decided to move forward with Lysandros when the assault happened (it doesn't get too far or graphic on the page) by a person she trusted while she was playing the piano and it's put her off men, relationships, and piano playing as a result. But when her best friend is injured, she doesn't hesitate to want to help even knowing Lysandros will probably make an appearance. Letting Xena's memories come back naturally seems the best course of action rather than forcing them by telling her the things that have occurred in the last few months, including her breakup with Lysandros. Rio has never stopped caring about Lysandros and now she will have the chance to tell him the truth behind their breakup.
Lysandros is a caring and concerned older brother with Xena. Now that Rio is back in his life, he wants to make her feel comfortable and rekindle their relationship. He desires her, but knows she is innocent and doesn't want to pressure her into anything she's not ready for. As a result, this is a slow burn romance where consent is key, and Rio holds the timetable on their intimacy which doesn't come until later in the story, and not until she's told him her secret. I appreciated that he wasn't a typical arrogant HP hero but let Rio's feelings guide their steps. In fact, I take issue with the title chosen for the story. Lysandros doesn't 'seduce a convenient innocent'. He treats Rio with care, patience and compassion, and doesn't try to take advantage of her.
Lysandros has issues with love in relationships and tries to keep his feelings for Rio from getting too deep but in the end succumbs to his true feelings so that they get a sweet happy ending, complete with a lovely epilogue. This story is a unique entry in the Harlequin Presents line and well worth the read.
Book Info:

Publication: Feb 19, 2019 | Harlequin Presents |
Lysandros Drakakis always gets what he wants, and he's never stopped wanting beautiful pianist Rio Armstrong! A fake engagement to please his family is the perfect opportunity to uncover why she walked away from their powerful connection…and indulge their still-sizzling desire under the Mediterranean sun. But Rio's heartbreaking revelation changes the stakes—he's given her his ring, yet now Lysandros finds himself wanting to give Rio everything…