Seducing His Princess by Olivia Gates: Mohab Aal Ghaanem is a master strategist in everything–except when it comes to Jala Aal Masood. Six years ago, the attraction between them scorched them both so deeply they are still recovering from the burns. Instead of being honest with Jala, Mohab chose to follow orders and deceive her, making it impossible for her to trust the love that he claimed to have for her. Mohab's parting words to Jala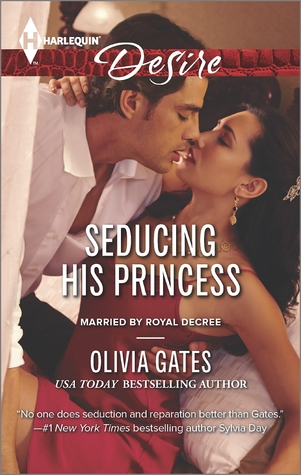 warn her he isn't ready to give up just yet.
'Sometimes hunger is so vast, nothing but what you crave can fulfill it.'
Six years later, with their countries on the brink of war, Mohab comes to Jala's brother, the king, with a proposition for peace: Jala's hand in marriage. Humanitarian Jala realizes that a marriage between them is the fastest way to peace, but the secrets of their past make it impossible for her to fully believe in Mohab's claims of love. Mohab is determined to win Jala over, but will he be able to convince her to stay once all of their secrets have been revealed?

B'Ellahi…you loved me…You said so…I felt it.'
'Whatever I said, what you think you felt, its over. I never want to see you again.'
He caught her, the feel of her intensifying his desperation. "You might think you mean it now, but you're mine, Jala. And no matter how long it takes, I swear to you, I will reclaim you.'
Ms. Gates does a wonderful job of forming characters readers can care about. Mohab and Jala are great together. Their sexual tension and attraction is off the charts, but it's also easy to see that these two admire each other's non–physical attributes as well. I thought it was a nice touch that Mohab, a black ops guy who specializes in being a master strategist, can never seem to find the right way to approach Jala. Every trick he's learned gets him absolutely nowhere with the one woman he desperately wants to persuade. Jala is fiercely independent and intelligent. Yet even though she knows intellectually that accepting Mohab's proposal is a bad idea, she can't stop her treacherous body from responding to him as it did six years ago. Even keeping all of her secrets close to her chest, it's easy to see that something greater than what is known of their past is holding Jala back from truly committing to Mohab.
The secrets have secrets in Seducing His Princess. Just when Mohab and Jala seem to overcome the obstacles in their relationship, another layer of trouble is peeled back, exposing another problem. If not done properly, this can drive a reader crazy and make them incredulous. However, Ms. Gates manages to weave the plot so that the new problems are foreshadowed and alluded to in such a way that even if the reader feels blindsided, they must acknowledge they should have seen it coming. I loved that I was so wrapped up in the moment with Mohab and Jala that I ignored the warning signs of trouble just as they did.
I would recommend Seducing His Princess to anyone who likes a strong willed heroine determined not to make the mistakes of the past, an alpha hero equally determined not to let anything stand in the way of getting his woman, meddling relatives, miscommunications, secrets, and half truths that come back to bite people in the butt, and scorch the pages sexual attraction forged with the heat of the desert sun.
Book Info:

Published March 4th 2014 by Harlequin Desire Series #2290
He will reclaim her in this scorching Married by Royal Decree novel from USA TODAY bestselling author Olivia Gates
Mohab Aal Ghaanem once had Jala Aal Masood …and lost her. Now, as a new king, he can end the explosive feud between their kingdoms, and fulfill his parting pledge to the princess of Judar–…that he would make her his wife.
Marry Mohab? Six years ago, the prince risked his life to save Jala, igniting her desires…only to betray her trust. Now the ruthless seducer is forcing her into a sham marriage. Will it mean a second chance with the man she still craves …or heartbreak when all their dark secrets are revealed?