In Wild Wolf (Shifters Unbound #6) by Jennifer Ashley, Shiftertown wolf pack alpha Graham McNeil has just barely been keeping his Shifters under control after humans moved them from Elko to an established town outside of Vegas. There's enough turmoil amongst Shifters these days anyway since they've been collared by humans, let alone with two alphas now in town finding a way to co-lead their packs. Graham knows he will need to find a shifter mate soon so he can ensure his legacy and leadership will continue. But the only woman he is drawn to is human Misty Granger. His pack will not like the idea of him taking a human mate, although Graham knows she is strong enough to handle the backlash. When local thugs begin causing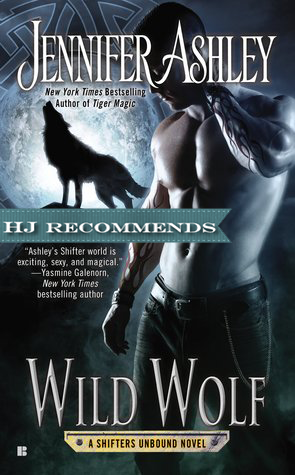 problems with Misty and her brother, Graham becomes involved in issues that will go far beyond what he could have ever imagined.
"I've been lying to myself," Graham said. "I thought I could keep it cool with you, go out with you for the fun of it, to enjoy being with you. Then say good-bye when I choose a mate. But I can't. Letting you go is something I can't do. All right?"
Flower shop owner Misty Granger has been dating wolf Shifter Graham for several months without it getting too serious so far. When she is threatened by criminals because of her brother Paul, who is newly out of jail, the only person Misty can turn to for help is Graham. They become embroiled in problems that stretch into the Shifter and Fae worlds, endangering everyone involved. Along the way, Misty also realizes that her feelings for Graham have become much larger than she ever realized they were. With their lives and future in danger, should she even be contemplating a relationship with the sexy alpha?
"That's why I love you, Graham McNeil," she said. "Because you're a good man, even though you pretend not to be. You take me for who I am, and don't want me to be anything else." Another kiss. "And you make me feel so wonderful, I could lie in your arms forever."
Wild Wolf is the action packed book six in the Shifters Unbound series by Jennifer Ashley in which we get up close and personal with Shifter Graham McNeil and human Misty Granger.
This is the first full length novel I have read in Shifters Unbound, having only previously read Feral Heat, the novella just before this release (which was equally as good!). There are a lot of characters and details to this story, but I think you can read it as a standalone if you're new to this "world". Being a huge paranormal fan, I found these Shifters to be complex in a good way and I could easily understand their struggle to survive with as little interference from humans as possible. They haven't been given much reason to put any faith in humans in general, but a few have found human mates. Just like in Graham and Misty's romance.
I really connected with both protagonists. Misty was so feisty and full of love and life. She wasn't afraid of Graham in either his human form or as his wolf, which is exactly what he needed in a mate. But Misty was also very protective of those she loves: her brother Paul, Graham, Graham's nephew Dougal, and the cubs Kyle & Matt. She proves how far she's willing to go to protect them here and it's nothing short of wonderful. Then there's Graham, who is the pack's alpha. And boy is he alpha! He's gruff, commanding, hulking in stature. But he has also been lonely since losing his mate, so finding Misty changed his life. Not that he admitted it at first. Their romance was as wild and as untamed as Graham himself. I could really get the sense of how much they cared for one another here and how strong their connection became.
Filled with fantastical creatures and a plot that gets more complex as the story progresses, I think paranormal romance fans will enjoy Wild Wolf.
Book Info:

Published April 1st 2014 by Berkley
In the latest Shifters Unbound novel, a man has resigned himself to a life half lived. But a beautiful, courageous woman has him longing for something more…
Graham McNeil knows that his pack is unruly, but he's not sure he can take the next step toward Shiftertown stability—choosing a new mate. After losing his mate and son long ago, Graham has worked hard to keep his heart in check. And even if he was inclined to bind himself again, his girlfriend, Misty, is human—a fact that won't sit well with Graham's old-fashioned wolves.
But Graham is up against a new enemy, one who could spell danger and death to all of Shiftertown. Graham must now defend his leadership and save Misty, the woman he has grown to love—before Shiftertown is pulled into an all-out war.