In Seducing the Bachelor (Bachelor Auction #3) by Sinclair Jayne , don't let the title fool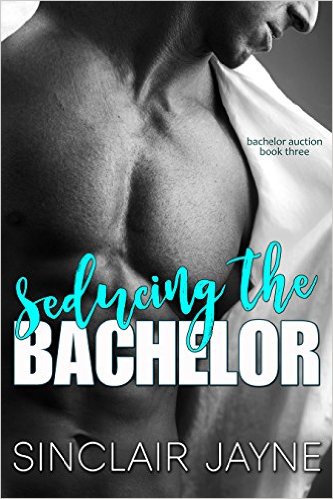 you! It is a deep, emotional read that I really enjoyed and couldn't put down.
Talon has finally found a place to call home in Marietta, Montana with her son Parker. The same place Colt swore he'd never return to after leaving for the army right after high school. But that's where he finds himself on his leave, helping out his former football coach by being part of a bachelor auction. Definitely uncomfortable and definitely not his thing, Colt goes through with it…even though he only has eyes for the woman in the bar who's captured his eye. That woman is Talon, and unbeknown to her, her friends have 'won' Colt for her… Despite the immediate attraction, Colt quickly finds out that Talon is tied close to his past. A past that still torments him. The pull between them is strong though, and even knowing Colt will leave again, Talon decides she deserves to have some fun. But can her heart survive when he leaves?
I really liked Talon. I liked her positive, happy attitude, her resilience and strength. She did not have the best childhood, but is now thriving in Marietta with her son. I liked that she finally decided it was ok for her to be a woman, have feelings, and have fun! I was worried about her getting too attached to Colt though, because he made it clear he was not staying. She was so good and non judgemental with Colt though, and it felt good to feel like I knew her. I loved, loved, Colt. Sinclair writes his character so well, she really pulled me in and made me feel for him. My heart ached for him at times. Colt too has moved on from a horrendous childhood and never looked back. He's focused on his life now, but the past still haunts him and affects who he is today. He doesn't do relationships, he doesn't know how. He has few close friends, but even them he rarely sees. He is very driven, but I felt like he must be so lonely at times, even if he didn't think about his life that way. As Colt and Talon become closer, the attraction and connection becomes even stronger. Talon is hoping for more from Colt, but he can't make promises he doesn't know he can keep. He doesn't know if he has it in him to give more. I couldn't wait to see how this relationship ended up. They just felt so right together, honestly like two pieces of a puzzle fitting together, and I really hoped Colt could take the chance.
Talon and Colt are powerful characters, and Sinclair Jayne brought them to life so clearly that they felt real. I won't forget them anytime soon! Her descriptions of the ranch, the tree house, even the house were vivid, making things easy to see in my mind. Parker, Talon's son is a really sweet boy who is a strong secondary character. I just adored him.
Characters from the other Bachelor Auction series make appearances in Seducing the Bachelor, but it can definitely be read as a stand alone. It is very well paced and smoothly written.
Like I said, I loved, loved this book. However, there are a few loose ends that are left undone and the story didn't feel finished to me because of this. To me they felt like important parts of the plot and leaving them undone left me feeling a bit lost. That was my only disappointment with this book, but it was significant enough to give a 4 star review instead of a 5 star review.
I'd recommend Seducing the Bachelor to any romance reader, particularly if you like an army man!

Book Info:

Publication: April 19th 2016 by Tule Publishing | Bachelor Auction #3
Single mom and veterinary student Talon Reese thinks she is volunteering her time, not her heart or her body, for Marietta Montana's second annual Bachelor Auction. But when Bachelor number 3 hits the stage, igniting every hormone she forgot she possessed, she's questioning her vow of no more men. With a man this drool worthy, some fun doesn't have to be off the table, even if she's not looking for a relationship.
Special Forces sniper Colt Ewing blew out of Marietta on graduation day and never looked back, until his former football coach asked for his help. Standing on the auction block is a tough mission for Colt until he meets his winning bidder, a woman who's as warm and friendly as he is aloof and silent. All night her mouth has been creating sexual fantasies, so when she opens it to boldly proposition him, there's no way in hell he's going to say no.
But as Colt and Talon burn up the sheets, he begins to forget why he hates this town, and Talon wonders if she can learn to trust enough to fall in love. But will that be enough to convince him to stay?