Seduction in Session by Shayla Black and Lexi Blake: Connor is used to living his life in the shadows. As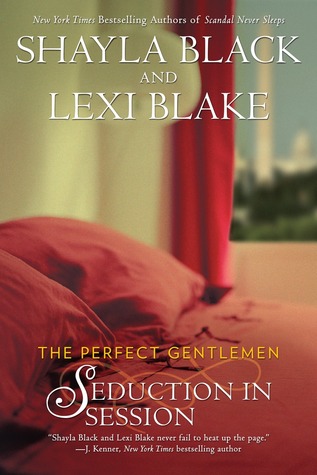 an operative for the CIA, he's used to secrets, lies, deception, and betrayal. When a DC-based tabloid known for publishing the latest scandal seems to set her eyes on the White House, Connor knows that he needs to put a stop to the tabloid. He insinuates himself into Lara Armstrong's life as her bodyguard to find out everything that she knows.
Lara just wants to bring the world's attention to her causes. She's found that exposing the misdeeds of politicians is an effective way to turn the spotlight on key issues. Very few people know that she's the force behind Capital Scandals, and that's how she needs to keep it. She's stumbled onto a huge story and she's determined to reveal the truth, which is where Connor comes in.
"Yes, I understand. Social networking is so important for your generation. It's how you let assassins know where to find you. Lara is…enjoying a latte. Please come murder her."
Lara is sweet, trusting, and expects the best in people, which is the direct opposite of Connor. She doesn't believe that the latest threat against her is all that serious or deserving of a bodyguard. Since both are independent and stubborn, they frequently clash on how to best keep her safe.
But she also doesn't deny that Connor, while the exact opposite of her normal type, is fueling all sorts of other fantasies. Both experience a punch of lust that is compelling from the very first meeting. Connor is used to using any tool in his arsenal to get the job done, and seducing Lara would be so very pleasurable for them both.
He lowered his mouth to hers, their lips brushing. He would never deny her this. "No, I'll take whatever you give me."
She sniffled again then slid off his lap. "All right. Then we'll have that to look forward to."
Seduction in Session is a steamy, suspenseful, and engaging read that I didn't want to put down! Shayla Black and Lexi Blake create a compelling suspense that leaves you wondering just how all the pieces of the puzzle fit together. Ms. Black and Ms. Blake provide great characters in Connor and Lara, along with Lara's father and their respective friends. Seduction in Session could be read as a standalone, but it will make more sense when read after Scandal Never Sleeps. Fans of Roni Loren, Beth Kery, and Lisa Renee Jones will enjoy Seduction in Session.

Book Info:

Publication: January 5th 2016 | Berkley | The Perfect Gentlemen #2
The second Perfect Gentlemen novel from the New York Times bestselling authors of the Masters of Ménage series.
Privileged, wealthy, and wild: they are the Perfect Gentlemen of Creighton Academy. But the threat of a scandal has one of them employing his most deceptive—and seductive—talents…
Recruited into the CIA at a young age, Connor Sparks knows how dirty the world can be. Only when he's with his friends can he find some peace. So when an anonymous journalist threatens one of the Perfect Gentlemen, Connor vows to take down the person behind the computer, by whatever means necessary—even if it means posing as his target's bodyguard.
Publishing a tabloid revealing Washington's most subversive scandals has earned Lara Anderson the ire of the political scene—and a slew of death threats. To keep herself from ending up a headline, Lara hires a bodyguard, a man as handsome as he is lethal.
When the bullets start to fly, Lara is surprised to find herself in Connor's arms. But as they begin to unravel a mystery that just might bring down the White House, Lara is devastated when she discovers Connor's true identity—and finds herself at the mercy of forces who will stop at nothing to advance their deadly agenda.