Seeking Carolina by Terri-Lynne DeFino was an interesting read. I will say that I don't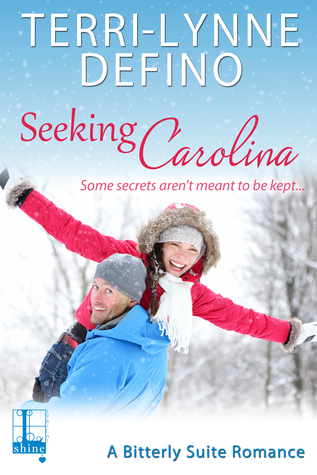 think the cover or the genre matches the story. It's under contemporary romance and I will have to admit, the romance is on the light side and the focus of the story doesn't fit with its category.
The story did keep me charmed with its strong mysterious elements and the bonds of sisterhood. The book revolves around four sisters, who come together when their grandma dies. Old secrets, former flames, and a sense of belonging takes hold in Seeking Carolina.
The main sister we learn the most about is Johanna. Johanna finally comes back to Bitterly to make terms with her grandma's death. She's avoided Bitterly for years and plans to leave soon…except Charlie, her first love does everything he can to reconnect with her. Charlie is one of the main reasons, Johanna avoids Bitterly. Her first love married someone else and had five kids with her.
Charlie is divorced now and wants Johanna. He's always wanted Johanna, but a stupid mistake kept them apart. I enjoyed Charlie's character. Even though it's clear he's always loved Johanna, he puts his children first. He would relive all his mistakes over, just to keep them.
Of course, Charlie and Johanna aren't the focus of the story. The focus is on the sisters and finally finding out what happened to their mom all those years ago. They only know bits and pieces, but when one of the sister's has an accident, the need for answers becomes more important than anything else. Each sister is different and handles situations uniquely, but above all, you can tell how much they mean to each other.
This story deals with serious subject matter, such as mental illness. This author didn't make light of the situation but handled it with grace. I've never read this author before, but after reading Seeking Carolina, I will definitely check out her other titles.

Book Info:
Publication: October 27th 2015 | Lyrical Shine |

Bitterly Suite #1
Johanna Coco is finally home in Bitterly, Connecticut to attend her beloved grandmother's funeral—only to be confronted by the very reason she's stayed away to begin with—Charlie McCallan. Her high school sweetheart is now divorced, and no longer the skinny boy Johanna once loved. Hometown handsome and dependable as always, Charlie is the kind of man she needs to lean on as she and her sisters grapple with their grief—as well as the mystery of their long-missing mother, Carolina. But Johanna's heart isn't only haunted by her ghosts; it is haunted by what happened between her and Charlie…
Charlie is determined to do things right this time, and he has to do it before Johanna vanishes from his life again. First he needs to prove to her that the past is past, and they can overcome it—no easy task when he's up against the ghosts lingering in her life, trying to convince her that happily-ever-after is not in the cards for any of the catastrophe-prone Coco sisters, least of all Johanna. But her fearless first love is ready to do whatever it takes to win her back—ghosts be damned