In Seven Day Fiancé by Rachel Harris, Angelle Prejean is in trouble. She is expected home for Thanksgiving, but not by herself. She has to show up with her fiancé, a fiancé that does not exist! Well at least outside of her wishes and dreams, for he is very real. So while at the charity bachelor auction she is still trying to figure out a solution to her dilemma while watching women bid on handsome bachelors for a date. And one of those bachelors is Cane Robicheaux, her roommate's and friends' brother, but also the man she told her mother was her fiancé.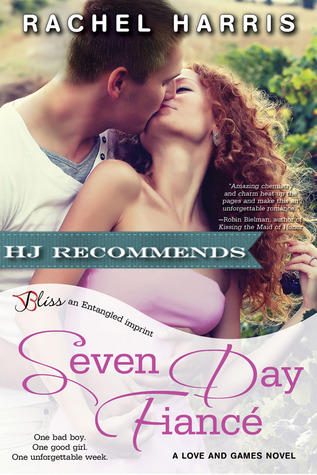 Cane cannot believe what he will do for his little sister. Not only did she rope him into being one of the bachelors for auction, she made him model without a shirt for a poster in the lobby of the auction, but she also has him dressing in a sexy Santa suit with hat and all. He will try to get as much money as possible for charity, but he will still make her pay.
Angel, as her friends call her, is not comfortable in most situations, and after seeing the poster she considers running back home. Unfortunately before she makes her first move, her friend and roommate shows up and tells to go sit with Colby while the auction starts. But as luck has it, Angel trips on the carpet and in an attempt to stop her from falling she swings her arms up and her purse hits an old lady. Her clumsiness is nothing new, but just another humiliation witnessed by Cane. So she decides to drown her humiliation and sorrows.
Angel becomes so immersed in her drinking that she doesn't realize that all the bachelors are gone and now Cane is up. She doesn't want to bid and expects that Cane will be happy with whoever wins him. But when a crazy obsessed ex of Cane's decides to win him no matter what. She expects Colby to help cane, but with her wedding coming up she doesn't have money to spare. All of a sudden, in her alcohol-induced mind, she can't help think that maybe she can bid on him and ask him to be her date and fake fiancé for the holiday.
Cane does not expect Angel to bid and win, with her being a volunteer firefighter how can she have the money of the winning bid. But as he tries to tell her that he will reimburse her, she implies that she comes from money and doesn't need any help to cover that. But she does have a proposition for him which she will tell him the next day.
Cane has wanted Angel for a long time, but she has always either run the other way or hid in some way without being able to keep any close contact, even eye contact with him. So now he sees this as his chance to finally woo her and get her out of his system and mind. But being in close quarters and pretending to be engaged will not be as easy as he thinks. For her family will not condone to them sleeping in the same room and they will ask many questions that will put their charade in danger. But his biggest challenge will be when he finally gets her the way he wants her, only to find out that she is more innocent than he thought.
Cane and Angel have a sweet romance that will surely keep you hooked. Not only because of the chemistry between them, but also because of the obstacles they have to face and the past they have to get over before they can finally have their HEA.
If you liked Taste the Heat, you can't miss the story of Colby's brother Cane, and find out how he dealt with all the pain of the past and was able to save true happiness of his future before he lost it all.
For a fun, sweet and very heartwarming story, don't miss Seven Day Fiancé by Rachel Harris.
Book Info:

HJ Recommends
October 14th 2013 by Entangled: Bliss
Angelle Prejean is in a pickle. Her family is expecting her to come home with a fiancé—a fiancé who doesn't exist. Well, he exists, but he definitely has no idea Angelle told her mama they were engaged. Tattooed, muscled, and hotter than sin, Cane can reduce Angelle to a hot mess with one look—and leave her heart a mess if she falls for him. But when she ends up winning Cane at a charity bachelor auction, she knows just how to solve her fiancé problem.
Cane Robicheaux is no one's prince. He doesn't do relationships and he doesn't fall in love. When sweet, sultry-voiced Angelle propositions him, he hopes their little game can finally get her out of his head. He doesn't expect her to break through all his barriers. But even as Angelle burrows deeper into his heart, he knows once their seven days are up, so is their ruse.