Death's Lover (Eternal Lovers series/Grim Reaper, #1) by Marie Hall: I'm slowly finding out that, for me, a book needs to be in the vicinity of 300 pages (250+) for me to feel like its a fully formed novel with whole, complete characters. I'm thrilled to let you know that Death's Lover was a great read… with a small caveat (of course!).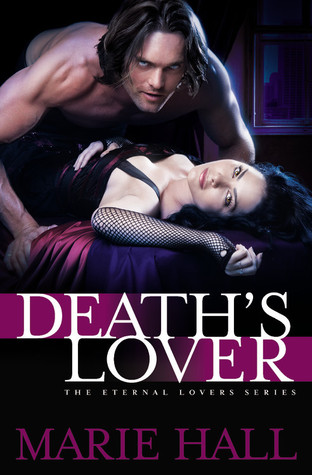 The heroine, Eve, was excellent! I thought she was sufficiently complex and real. At the start of the book, she's married to an amazing guy and she's completely in love with him. I knew this wouldn't last but I kind of wanted it to. I won't reveal what happens but I can tell you that, for me, Eve's emotions were very real and my heart was broken almost as much as hers was. But there's lot more to Eve, and this book, than sadness and heartbreak. It was actually a lot of fun to read! In this world, supernatural creatures are real and they're living out in the open…in San Francisco. But things aren't all hunkey dorey. There are humans that aren't okay with supernaturals and there are supernaturals that don't want to try and live in harmony with humans. But that conflict is kind of a back drop. Eve is a witch. Like, a real, live, powerful witch. And she has two sisters who, as you could guess, she loves very much but they're also a pain in her behind! Her sisters are the source of a lot of laughs and they're able to bring Eve out of her shell, which is nice to see. I was really rooting for Eve and it was a lot of fun to read a woman going out and trying to get what she wants…whether its a man or a career or whatever.
Cian is the hero and he sounds so freaking yummy! But he's not perfect. He's… kind of… well, he's Death. Like, the Grim Reaper. And that can't be great for a guy's dating prospects, ya know? Cian isn't the only Grim Reaper. They're actually, like, a sort of sub-race of the fae and the fae are generally pretty hated by supernatural folks. I must have missed it because I'm not quite sure WHY the fae are hated so much. Maybe they're dangerous? Or maybe they started the last Great War between humans and supernaturals? I don't know. I'm pretty sure it was covered in the book but I must not have been processing the story at that point? Anyways! Cian is super hot but kind of strange looking. He's described as really tall, nicely built but with black and white hair. I wasn't sure if it was Cruella DeVille-like with white on one side and black on another or if it was all mixed in, like salt and pepper hair? But whatever it was, Eve really dug it. And I have to say, I kind of did too! I'm starting to really enjoy heroes with longer hair.
I thought that Eve and Cian were decently hot together but this is where my caveat comes in. Now, I know at least SOME of you are dirty, dirty girls and you read these books just for the smut content. Hey, I'm not judging. I'm usually one of YOU!! LOL! But my point is, if you're looking for smut or lots of Sexy Time, you won't find it here. It has a lot of sensuality and a lot of longing but not a lot of the gettin' down and dirty, if you know what I mean… So if you're looking for a sexy little romance, this might be for you. If you're looking for hot, monkey sex… uhh, this ain't it.
But overall, I really liked this book. It wasn't overtly funny or sad. It was just good and engaging. It looks like this is Book 1 of Marie Hall's Grim Reaper series. Another Grim Reaper has a secondary role here and if he and Cian are anything to judge the series by, I will for SURE be continuing to read them! Yowza! This was a pretty great love story without an overabundance of heat. If that's what you're looking for in your paranormal romance, you should definitely give this book a chance!
Book Info:

Published September 3, 2013 by Forever Yours | Series: Eternal Lovers series/Grim Reaper #1
Previously published under the title The Witching Hour
Eve Philips thought she could never love again. After her husband died in a hit-and-run accident, Eve poured her heart into her potions shop, Witch's Brew, and hasn't given any man a second glance―until Cian. As soon as she locks eyes with him, Eve knows she'll never be the same. Gorgeous and mysterious, he incites a passion in her that she's never felt before. And it's almost otherworldly…
Cian knows Eve is special the minute they lay eyes on each other. He's a supernatural being with a dangerous duty, and being seen is not part of the job description. But when he meets the kind, beautiful Eve, all the rules go out the window. Now that his superiors have gotten wind of it, he has a wicked enemy on his tail. Yet all he cares about is Eve: loving her, protecting her―and finding the right time to tell her his dark and terrible secret, a secret that threatens both of their lives…