In Shadow and Ice (Gods of War #1) by Gena Showalter, A warrior with four All War wins under his belt,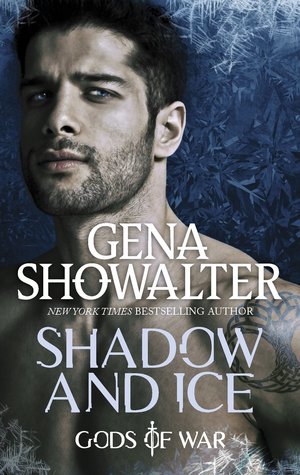 Knox of Iviland has been encased in ice on Terra for untold centuries, waiting for the moment he is freed from his frozen tomb. The first thing he sees, though, isn't the other fighters who have been stuck in ice like him. Instead, it is a beautiful woman from Terra who stirs something inside him no one ever has before. And with Knox in a fight for his life–and to kill all the other combatants to become winner of the All War and this realm–Vale could prove to be a deadly distraction. But somehow he ends up saving her life and forming an alliance of sorts with the human. A woman with no true supernatural abilities, unlike his to use shadows, Vale proves herself to be just as strong and determined as any warrior he's fought against. And Knox finds himself trying to find a way to win the war *and* keep the girl–an impossible situation.
'But here he was, chasing after Vale–an enemy–determined to lay the heads of her tormentors at her feet. Somehow, a single kiss had changed the very fabric of his being.'
Vale London and her sister Nola Lee are having one last hurrah, a trip to the arctic, before they settle down to work long hours opening up their own business. They were having fun until they were left stranded in the middle of the frozen tundra. Then they were forced to strike out on their own, only to shockingly find what appeared to be huge warriors frozen in icy pillars. One minute Vale is looking at a gorgeous guy trapped within the ice, and the next she's running for her life as the ice crashes and a battle begins. Separated from her sister and somehow now a part of what beastly Knox calls the "All War", Vale is not only a representative for her realm now, but she is also unfortunately becoming smitten with her sort-of captor. And considering that there can only be one victor in the war, it's not a good idea to get attached–or to trust–anyone. Something Vale knows all too well from her own past.
'He was a hero and a villain rolled into one. But so was she.'
Brutal, exciting, sexy and all-consuming, Shadow and Ice was a larger-than-life start to Gena Showalter's Gods of War series. A mix of mythology, paranormal/fantasy, and the modern world, I think Showalter has found a winning combination here.
"If I live," he said, "you die. If you live, I die." With her, he was doomed. But without her, he wasn't sure life would be worth living. The impossibility of the conundrum left him ragged.
Trigger Warning: Gory, explicit, deadly fight scenes, abduction, and some details of previous abuse.
I'm not kidding when I say this was a brutal, bloody book so I have a feeling it won't work for everyone. However, if you've read and enjoyed Gena Showalter's other paranormal work, like her Lords of the Underworld series, then you will most likely get as swept away with Shadow and Ice as I did. There were tons of characters and a lot of world-building going on as this of course is the first book in the series. But I thought Showalter did a great job laying the groundwork for upcoming books and giving us a good idea of who the continuing characters will likely be, as well as what the All War truly was about. And it turned out to be a pretty fascinating–albeit sometimes depressing–event.
Knox and Vale were our respective hero and heroine, and boy weren't they a pair. Showalter has an uncanny knack for matching people together who you would never dream could work romantically and then proving how well they fit as a couple. And you couldn't get a whole lot more opposite than Knox, a four time champion warrior who was feared by many; and Vale, a former foster kid from Earth (or Terra, as the All War combatants called it) who was opening up a business with her beloved sister Nola in a town that will ring some bells for fans of Showalter's Original Heartbreakers series.
I wasn't so sure about Knox at the beginning. He was just so laser-focused on winning the All War, filled with bloodlust and vengeance, that I didn't see how Vale would "tame" him. But like with a lot of Showalter's heroes, Knox had hidden depths and really grew as a person by the end of this book. He had some truly sigh-worthy moments with how fiercely he protected and cared for Vale. But in turn, she did the same for Knox. I loved how tenacious she was, with unbelievable inner strength. And how funny she could be, actually managing to get her warrior guy to laugh a few times. But it was Vale's loyalty that wowed me. Both to her sister Nola and to Knox.
Shadow and Ice takes us on a epic journey from dazzling, passionate heights to the grittiest, most blood-soaked battles imaginable. And it was all done with Gena Showalter's eye for detail, her clever dialogue, and surprising plot twists I have come to expect and absolutely relish.
Book Info:
Publication: October 23rd 2018 | 

HQN | Gods of War #1
Gena Showalter, the New York Times bestselling author who brought you the Lords of the Underworld, introduces a scorching new paranormal romance series… Gods of War.
Knox of Iviland has spent his life competing in the All Wars, where vicious warriors with supernatural powers fight to the death to claim new realms. One winner takes everything—and all losers die. Enslaved as a child for his ability to control shadows, the most ruthless champion in history will stop at nothing to kill his king. But first he must win the battle for Earth. When a fearsome weapon imprisons every combatant in ice, centuries pass without progress…until she walks in.
Vale London craves a fun arctic getaway with her foster sister before settling down to open a bakery. Street-tough but vulnerable, she is unprepared to find ancient gods escaping a frozen cave—merciless beings who target her when she inadvertently enters their war.
Though Vale is now his enemy, Knox is consumed with lust and a fierce need to protect her. But only one combatant can prove victorious, and he will have to choose: live for freedom, or die for love.