Shape of My Heart by Luann McLane: Jimmy is one of the Heart brothers and best known for his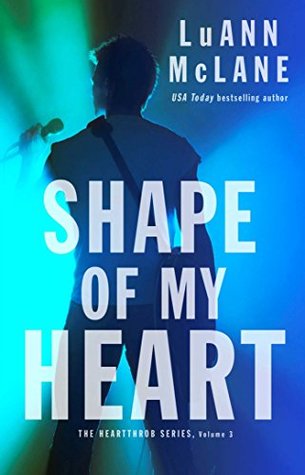 songwriting. He never wanted the spotlight that came with being in a boy band, wasn't the greatest dancer, and struggled with stage fright. He's since made a career for himself as a songwriter, and he's supposed to be penning a song for Oliver and Belinda. Except he can't handle the distraction of the pooch next door who loves the balcony as much as he does.
Maggie is thrilled that she's finally living in Florida and has a great view of the ocean. She's happy to be living out her dream even though she has to deal with the homesickness and guilt of moving away from her mom and grandma. She's smart, sexy, feisty, and turned her own experiences into a career. She values the positive effect that she's had on the lives of teens through her writing and speaking engagements.
Despite all of Jimmy's professional success, he can sometimes struggle in the art of pursuing a woman. Jimmy would love to get to know his sexy neighbor better, both to keep her dog quiet and for her, but she's determined to keep her distance. Luckily, his brothers are more than willing to give him some advice on the distracting dog and her feisty owner.
"Let her get to know me? Earn her trust?" he asked in a hushed voice. "Learn to like me?"
"Yeah. Take your time."
Jimmy nodded, nibbling on the inside of his lip. "And then, again, maybe I should just go for it." Jimmy leaned in, cupping Maggie's cheek. "What do you think?"
Jimmy is quite persistent and finds his way into Maggie's good graces. He shows her another side of himself as he comes to her rescue a few times. Both are creative, love dogs, and are devoted to their families. Jimmy is kind, thoughtful, generous, and loves to take care of Maggie and show her new things. They have great chemistry and push each other.
"I think she wants to hang out here for a while." Jimmy tilted his face to the little dog and was rewarded with an unexpected lick. "Why don't you join us?"
"I don't think so."
"I'm clothed now." He gave her a small bow.
"Not totally." Maggie stepped just inside the door. "What do you have against shirts?"
Shape of My Heart is fun and entertaining with an adorable pup who steals the show. LuAnn McLane brings this push-and-pull romance to life with great characters and a very relatable history for Maggie. Ms. McLane continues to create interesting characters with each book in the Heartthrob series. Each book in this series can be read as a standalone. Fans of Erika Kelly, Lia Riley, and Ann Marie Walker will enjoy Shape of My Heart.

Book Info:

Publication: March 26th 2018 | Pocket Star | Heartthrob #3
The USA TODAY bestselling author of the Cricket Creek series returns with this third title in her fun and flirty Heartthrob series, following the quiet songwriter of the Heart brothers as he meets a feisty young adult author who may just be his match.
Meet the Heart Brothers: formerly the members of the cult-phenomenon boy band Heartbeat, now they're all grown up and back together for one last reunion tour. Trends may come and go, but a group of sexy brothers with a penchant for song and dance never goes out of style…
Jimmy Heart, affectionately known as the quiet one of the group, was never completely comfortable on stage. He prefers writing songs on his balcony in his high-rise condo overlooking the sea. But when a noisy neighbor moves in next door, Jimmy's muse goes on strike, leaving him no other choice but to confront Maggie Murphy and her little dog, too.
But the sassy author of empowering novels for teen girls refuses to pipe down, creating an ongoing battle along with an underlying sizzling attraction they both can't deny. And when Jimmy learns that feisty Maggie has gone through emotional turmoil as a teen, he's touched by her bravery and he vows to show her the depth of his unconditional love.
With her "rich and unique voice" (Romance Junkies), LuAnn McLane crafts another sweet and spirited novel that is perfect for fans of Anna Todd and Katy Evans.