In Shipped by Angie Hockman, Henley Evans has slowly but surely been working her way up the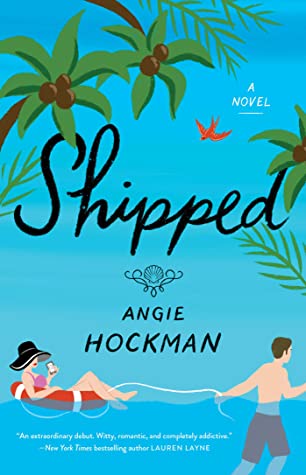 corporate ladder at a Seattle travel company, currently as marketing manager. But she has her sights set on a new promotion that was just announced. One that would be a stepping stone to the executive board. All signs point to Henley being the one for the job until she finds out Graeme Crawford-Collins, the social media manager who works remotely from another state, is also in the running. And that just will not do. Especially since he and Henley have a tenuous work relationship already.
His lips quirk. "I like arguing with you."
"You do?"
"It's fun. I like a challenge,and you give as good as you get."
"You have no idea." Instead of sounding flippant, my voice comes out in a rumbly purr.
Graeme's eyes grow hooded. "Maybe not *yet*."
Things get even more complicated when Henley and Graeme must take a cruise to the Galapagos islands and each come up with a killer social media campaign to boost tourism. Traveling to such a beautiful location would normally be a dream come true for Henley. But between her rivalry with Graeme, family problems, an MBA that she is slowly plunking her way through, one or two classes at a time, and a mountain of student loan debt, she isn't sure time on a cruise will be well-spent. Once Henley is enjoying the sun, ocean, and activities the cruise provides, though, she's in heaven. Until her arch nemesis Graeme proves to be a totally different guy than she first thought. One Henley could see herself falling for all too easily.
'I've been so singularly focused on my career that I've sacrificed too much–missed out on too much with the people I love.
Not anymore.'
An incredibly charming romantic comedy written with an insightful voice, Shipped by Angie Hockman carefully traversed friendships and love while sweeping her readers away to a magical tropical locale–the Galapagos.
"For the record, I will do anything to land this promotion… I'll prove I'm the better choice. Throw all the obstacles in my way that you want. I'll still rise to the top."
Straightening, he leans so close that his shoulder brushes mine and his warm breath caresses my ear when he chuckles. "Game on."
When I saw Shipped was being compared to The Unhoneymooners (Christina Lauren) and The Hating Game (Sally Thorne), I was sold. I just had no idea that I would smile like a loon the entire time I was reading this debut novel by Hockman, or that I would completely and wholeheartedly fall in love with all of the characters. They sure were a motley group of people. But Henley, Graeme, Walsh, and yes, even Nikolai, warmed my heart with their many personal situations they were trying to resolve and the lovely bond they created together.
The tension Hockman created between Graeme and Henley was fun and grew to be oh so delicious. Through a series of misunderstandings and assumptions, they got off on the wrong foot as coworkers. And it carried over into their work trip in the most hilarious of ways. It was nice that even though most of the assumptions made were on Henley's part, she quickly owned up to it, showing a kinder, more humble side than Graeme was used to. Their personalities meshed well, which made their bantering and scenes together richer and full of depth. And when it came to the romantic parts of their relationship? I don't think the word smolder does it justice.
And the trip Henley and Graeme took to the Galapagos? Hockman has been there herself (read the author's note at the end for more about that!) which is absolutely evident in the level of detail and the true sense of wonder readers will have learning about the area and its native wildlife and plants she described. The Galapagos itself was almost like another character in the story. And seeing it through Graeme and Henley's eyes was a blast. Things might have been rocky between them, but the joy they found in exploring the islands and their many adventures together smoothed those rough edges and was enough to give them a fighting chance together.
Shipped was a sweet, chuckle-worthy debut novel by Angie Hockman that took enemies to lovers to a whole new entertaining place. I definitely think she's an author to watch and I simply can't wait to see what she will give us next.
Book Info:

Publication: Expected publication: January 19th 2021 | by Gallery Books |
Goodreads Most Anticipated 2021 Romances
LibraryReads January 2021 Pick
CNN Best Books for January 2021
The Unhoneymooners meets The Hating Game in this witty, clever, and swoonworthy novel following a workaholic marketing manager who is forced to go on a cruise with her arch-nemesis when they're up for the same promotion.
Between taking night classes for her MBA and her demanding day job at a cruise line, marketing manager Henley Evans barely has time for herself, let alone family, friends, or dating. But when she's shortlisted for the promotion of her dreams, all her sacrifices finally seem worth it.
The only problem? Graeme Crawford-Collins, the remote social media manager and the bane of her existence, is also up for the position. Although they've never met in person, their epic email battles are the stuff of office legend.
Their boss tasks each of them with drafting a proposal on how to boost bookings in the Galápagos—best proposal wins the promotion. There's just one catch: they have to go on a company cruise to the Galápagos Islands…together. But when the two meet on the ship, Henley is shocked to discover that the real Graeme is nothing like she imagined. As they explore the Islands together, she soon finds the line between loathing and liking thinner than a postcard.
With her career dreams in her sights and a growing attraction to the competition, Henley begins questioning her life choices. Because what's the point of working all the time if you never actually live?
Perfect for fans of Christina Lauren and Sally Thorne, Shipped is a fresh and engaging rom-com that celebrates the power of second chances and the magic of new beginnings.