Shot in the Dark by Tracy Solheim finds zoologist Josslyn Benoit in Africa, attempting to catch poachers in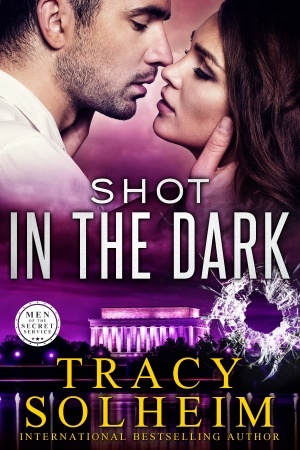 the act. When it goes wrong and a member of her team gets shot, she has to make a call to get them evacuated. The person she calls? Her brother-in-law, the President of the United States.
Adam Lockett, a leader of the Secret Service's sniper team, is put on protective detail because of a head injury. His charge? Josslyn, whom he had to save previously when she found herself in trouble another time. The two shared each others' life stories and kiss before they were pulled from the ocean and went on their separate ways. Adam thinks this will be a boring assignment, but when people from Africa show up in the U.S. and someone tries to attach Josslyn, he realizes this will be anything but. As the pair try to get to the bottom of who is after Josslyn, Adam also has to decide if being with her is worth losing his job.
This is the second book in the series. I haven't read the first book, which is about one of Adam's friends who was also a Secret Service agent, but I thought this worked as a standalone. There were a couple of mentions of things that happened with Griffin and his fiance in that book, but it wasn't to the point that I felt I was missing a lot.
I liked Josslyn. She was scared, but she didn't let that stop her from living her life. She insisted on going to work at the zoo, and she wasn't afraid to stand up to Adam and people in her brother-in-law's administration. I also enjoyed Adam and like the banter back and forth between the pair.
As a warning, there was one scene in the beginning that involves the killing of animals. If you're sensitive about that, you may find it disturbing. I will say, however, that it's the only scene in the book that is like that.
The suspense was well-executed and kept me guessing as to who were actually the bad guys and what their motivations were. I would definitely recommend this to fans of romantic suspense.
Book Info:

Publication: January 15, 2019 | Tule Publishing | Men of the Secret Service #2
If there's anything zoologist Josslyn Benoit abhors more than guns, its poachers. When an African "fact-finding" mission with a wildlife conservationist group results in one of their members being shot, Josslyn and the team must escape for their lives through the jungle. In order to obtain sanctuary from the local government, Josslyn calls in a favor from her older half-sister, the First Lady of the United States.
After suffering an injury in the line of duty, Adam Lockett, commander of the Secret Service's elite team of snipers, is forced to work on a boring protective detail. Making matters worse, he's assigned to guard the First Lady's wild-child younger sister, a woman hell-bent on ditching her detail every opportunity she gets. Still, Adam is determined to bide his time until he is cleared by the doctors to return to the job he's best at, even if the tree-hugging pacifist with the smoky eyes makes his job difficult.
Can these two opposites find happiness? Or is it just a shot in the dark?