In Sidebarred (The Legal Briefs #3.5) by Emma Chase, Life is certainly never dull these days for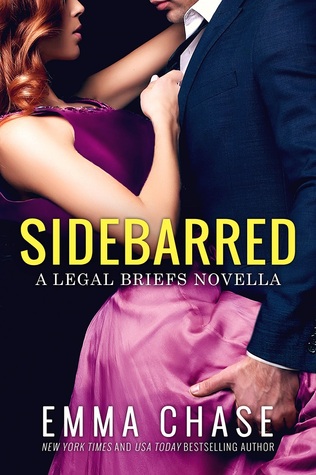 lawyer Jake Becker now that he has his wife Chelsea and her six orphaned nieces and nephews to take care of. He never realized exactly how much of a challenge it would be to raise the rambunctious crew but he'd never give it up for the world. Well, most days.
Chelsea's voice is low, so the kids can't hear. "There will never be anything sexier than watching you–with your muscles and tattoos–braiding a six-year-old's hair."
I shrug. "My braids are awesome."
Just when Jake and Chelsea have their routines down pat and the chaos (mostly) controlled, their lives change completely once again. Jake is more than happy to stand by the love of his life, in his role as protector. But there are some things you just can't be prepared for. It will take all of the love and patience he can muster to let nature take its course and hope that things work out as they should.
'She's my love, my home, the solace to my soul, the keeper of my heart, the center of my entire fucking world. The only reason I believe in my own goodness is because I see it reflected in her eyes.'
Jake Becker is back in the spotlight with this final novella in the Legal Briefs series. Tying things up for our favorite characters in her own unique and lovely way, Emma Chase gave us one more chance to laugh and sigh along with Jake and company.
While I adored all of the characters in the Legal Briefs series, Jake and Chelsea's romance (book #2 Sustained) was one that really tugged on my heartstrings. I mean, six orphaned children. How much more dramatic can you get? And this short story reminded me why I fell head-over-heels for Jake, Chelsea and her nieces and nephews in the first place.
It was great being back in Jake's head, as this was told from his sometimes grumbly–but always hilarious–POV. He was still the same sexy guy who couldn't get enough of his wonderful woman. But this showed the depth of his character as he turned into a full-fledged father to the kids. It was sweet, touching, and definitely all done in true Jake fashion, with Chelsea lovingly guiding him…and perpetually after him to watch his potty mouth around the 'minions'.
We also got to catch up with the other main characters in the series: Stanton & Sofia, Brent & Kennedy, and saw where they ended up which was fun. There were some major changes in their lives, all for the better, that were hinted at in the end of Appealed (book #3). This novella ended similarly, in that it bounced forward seventeen years to another big event in Jake, Chelsea and the kid's lives. I loved how everything was wrapped up and it felt like readers were truly given much needed closure to the series. *sob*
This is one novella that I think Legal Briefs fans will swoon over. With an epic storyline spanning the better part of two decades, major life changes for several characters, and all of the entertaining camaraderie we've come to expect out of this bunch, I couldn't have asked for more out of this story.
Book Info:

Publication: April 24th 2016 | Gallery Books | The Legal Briefs #3.5
Join Jake & Chelsea, Stanton & Sofia, Brent & Kennedy as they navigate the hilarious and heartwarming hurdles of love, life and the law in this final addition to the Legal Briefs Series.
There was a time when Jake Becker had it all together. He was controlled, driven, ruthless—in and out of the courtroom.
Then, six irresistible orphans and their heartbreakingly beautiful aunt crashed into his perfectly ordered life. They changed everything. They changed him. Now he's a husband, an upstanding member of society, a father figure—a family man.
And he's pretty damn good at it.
Sure, he has to referee sibling smackdowns, re-learn algebra, ensure his clients stay of jail, and keep his wife happy—but it finally feels like he's got it together again….
So, of course something has to screw it all up. It's huge. Life-changing. Kind of terrifying.
And it will be the most amazing, perfect thing he'll ever do.