In Simple Gone South by Alicia Hunter Pace, Brantley Kinkaid has blamed himself for his mother and grandfather's death when he was eighteen years old. He keeps wondering if he had not argued with his mom and if he had only gone to pickup his grandfather as requested if the accident would not have happened. But no matter what he knows that arguing leads to no good, and he makes he sure that he does not argue with anyone no matter what.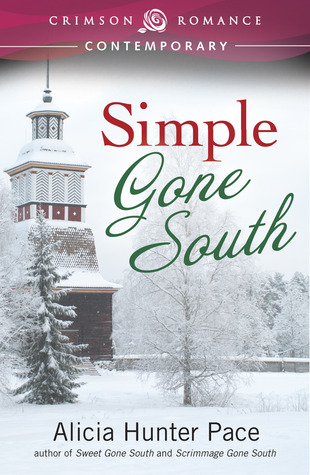 That's why no matter what his on again off again girlfriend did or said he just let it go and got back together with her soon after. Until the day she took it too far and he was the one to end the relationship, this time definitely.
Lucy Mead may seem like a beautiful and confident interior designer professional on the outside, but on the inside she still feels like the friendless overweight young girl who had to spent her life following her archeologist parent around the globe. Now Lucy is very happy that she was chosen to be the interior designer for the Brantley building. She just has to wait and find out whom the architect she has to work with will be.
When Lucy sees Brantley her teenage unrequited love, one she has not been able to forget, or the humiliation she felt when he left her as they were about to be intimate she makes it very obvious that she is not interested in more than being casual acquaintances.
Brantley cannot help the attraction he feels, and even if she wants to hide it he knows that the chemistry is mutual. At first he expects to be in Merritt only for the holidays as usual, but once his grandmother asks him to consider remodeling the Brantley building he knows that he cannot walk away as fast as he usually does. Now he will have to stay in the one place where the demons of his panic attacks are more active.
What Brantley didn't expect was that Lucy would try to keep away from him, or that he would find a way to keep his demons at bay when she is near. But even if she is willing to have a fling-like relationship with him, how long will she be willing to act as his refuge from his grief. Lucy wants a family and love and as long as Brantley doesn't face his demons he will not be ready to give her what she wants.
Simple Gone South by Alicia Hunter Pace is a heartwarming, sweet and entertaining read that will keep you laughing and sometimes even have you shed a tear or two.
Book Info:

November 4th 2013 by Crimson Romance
The last time Brantley Kincaid had an argument with someone, he was eighteen years old—and he regrets it like he will never regret anything again. If only he had not balked at going to pick up his grandfather that day, his mother would not have driven into the path of a truck and there would be two fewer graves in Merritt Cemetery. Though a frequent visitor, he hasn't lived in Merritt since burying his mother and grandfather. But now he's coming back and it might not be so easy to hide behind his wit and charisma.
Outwardly, interior designer Lucy Mead is a beautiful, confident professional. Inside, she's the friendless, overweight girl who spent her life following her archeologist parents all over the globe. And who could forget those teenage years of turmoil and unrequited love? It would have been kinder if Brantley had not known she was alive rather than treating her like Robin to his Batman. She carries the humiliation to this day.
Their friends and Brantley's family are delighted when he sets his sights on Lucy, though Lucy isn't so sure. She cannot deny the attraction, but something is wrong. Does he really love her, or does he see her as a refuge and another way to run from his grief?
If she can't find answers, what could be a simple, sweet life might go completely south.