Sin City Vows by Zuri Day is a sexy romance featuring close family ties and a couple who have to get over some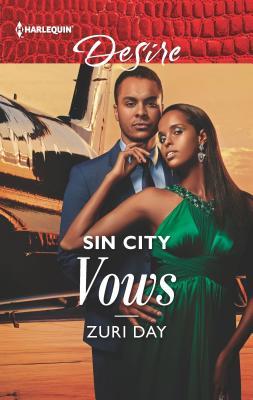 minor hurdles to get their happy ending.
When Christian Breedlove, new president of his family's hotel conglomerate receives a jet from his wealthy family for his birthday, he gets an extra surprise. A childhood friend has tagged along for the ride and she's all grown up!
Lauren Hart hasn't seen much of the Breedlove family since her younger days but her crush on older teenager Christian is still in full force when she takes a job opportunity with Christian's mother Victoria as an assistant to help plan her charitable events. Her mother Faye and Victoria have been friends for ages, and this job has come at exactly the right time. For reason's unknown to her, her father has been pushing her to get back together with an ex-boyfriend, Ed, whom she has no interest in, but is the son of her dad's boss. The chance to go to Las Vegas and work with the Breedlove family is a welcome escape.
Christian and Lauren soon find themselves interacting on more than just a business level. But Christian isn't sure about Lauren's motives in accepting the job with his mother, and he's been burned before by women after his money. Plus, Lauren hasn't told Christian the real reason she's there. When all the secrets come out, will they still have a chance at a happy ever after?
I enjoyed this story. Christian's family is very close-knit and there are lots of lovely scenes between them, showing Christian adjusting to his new position and the support the family gives him. Victoria is very pleased with the work Lauren is doing for her, and Christian also comes to value her intelligence and expertise in marketing, even going so far as to bring her to Djibouti, Africa for his latest hotel idea. The story shows a jet-setting lifestyle and the beautiful surroundings that money can buy, yet none of the characters are snobby or pretentious. They appreciate what they have.
Lauren's relationship with her family is a little more complicated. She's got support from her mother, but doesn't understand what her father is up to, trying to push her into a relationship with her ex. As the story unfolds we discover more details that complicate things, to the point where Lauren is forced to make up an engagement to Christian as protection! This doesn't help the situation between them since lies and deceit are already something Christian is wary about.
Lauren has some ground to make up to show Christian that her feelings for him are genuine, but Christian is also a bit stubborn in holding Lauren at arm's length emotionally. There are some sexy love scenes (though there is some 'purple prose' that was sometimes a little cringeworthy) and heartfelt conversations that eventually lead to the couple solving their problems, and getting their happy ending. The secondary characters add to the story, making for an entertaining and enjoyable read.
Book Info:

Publication: Mar 01, 2019 | Harlequin Desire | Sin City Secrets #1
Childhood crush. Shrewd businessman. Billionaire playboy.
Totally off-limits.
Lauren Hart is escaping trouble, not starting more. But her new boss's son, Christian Breedlove, is too tempting to resist. Christian wants no strings attached, so Lauren tries to ignore the simmering passion between them. But when the fiancé Lauren fled appears in Sin City, the runaway bride claims she's married to Christian! Now their relationship is a tangled web…and only "I do" can fix it!