Springtime at Hope Cottage by Annie Rains is a book about finding love when you least expect it. It is about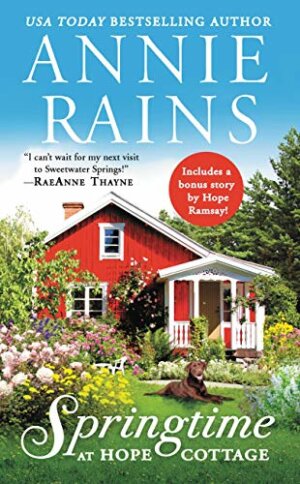 hope, it is about healing, it is about putting those you love before your own wants and desires. This is the amazingly beautiful story of Josie and Tucker.
Josie Kellum is a workaholic. She is a writer for an amazing magazine, or at least it was until the bosses son takes over and turns it into a trash tabloid. Needing to get away and figure out what to do, she runs to Sweetwater Springs to visit her best friend and just might find more than she bargained for in the form of Tucker Locklear.
Tucker Locklear lost his wife to cancer. He has barely begun to move on with his live and start dating again when a whirlwind name Josie invades his life, is dreams and his good senses. Tucker does not have time for thoughts of Josie, his has a physical therapy practice to run, but when Josie gets hurt, he offers his services.
As Josie and Tucker spend time together, and then due to a freak fire back at her apartment in New Your, she is forced to move in to his garage apartment, they begin to develop feeling for each other. With Josie pulling Tucker out of his comfort zone and Tucker teaching Josie that there is more to life then just work, they begin to fall into a rhythm. But when a little girl who lost her mother and needs Tuckers help shows up for therapy, and then the bottom falls out for Tucker and Josie, they will either need to fight for love or walk away. Which road will they choose when forces in every direction are trying to pull them apart.
What I loved about Josie and Tuckers story is that they are both so similar, yet they are both feisty and fiery and they keep each other on their toes. They both have a strong sense of family and doing the right thing at all costs. When a secret is revealed, Josie feels the need to back off and allow Tucker to focus on his present, but Tucker fights for Josie, and in the end, convinces her that they might have a shot at making their love last a lifetime. I loved this story and these characters. I look forward to reading more in this amazing series.
Book Info:

Publication: March 5th 2019 | Forever | Sweetwater Springs #2
When opposites attract…
As an editor at a major New York City magazine, Josie Kellum is always on the go…until an injury sidelines her in the small town of Sweetwater Springs. Luckily, her new physical therapist is easy going and easy on the eyes. When their sessions start to heat up, in more ways than one, Josie is intrigued. But she has a city and career she loves waiting for her. So why does the thought of leaving him suddenly feel a lot like leaving home?
Tucker Locklear is just starting to move on after his wife's death. While he can't deny his attraction to the gorgeous, vivacious Josie, he won't risk the pain of losing someone again. The sooner he gets Josie back on her feet and back to her real life, the safer he'll be. But in Sweetwater Springs, love has a way of mending even the most damaged heart.