In Sinful Desire  (Sinful Nights #2) by Lauren Blakely, maintaining control is a necessity for Ryan Sloan.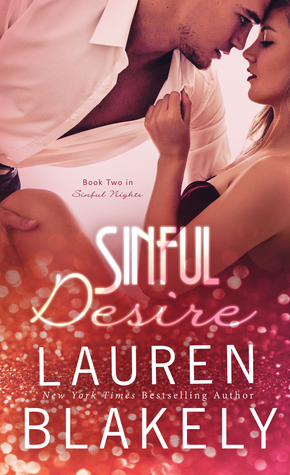 Because without it, he's worried his life will spiral like it did in the past, especially now that the police have re-opened the investigation into his father's death. However, a chance encounter with Sophie Winston almost manages to shake that control. Since she's his fantasy woman come to life.
Have you ever had a book where the plot failed to entertain you at the beginning, but a few chapters into it, it became a real page turner? Well, this book was like that, for me. The first two chapters were mind-numbing, yet I'm so glad I continued reading because from chapter three onwards, it turned out to be a very entertaining and sensual tale. Which encompasses the mysterious stranger's trope, in addition to, a heroine willing to give up control, and secrets that threaten to tear them apart if exposed.
"Strangers can make the best lovers."
"Are you? A good lover?"
"I don't really think you want me to answer that question?"
The dialogue was a nice mix of teasing banter between the two main characters, and intense due to Ryan's back story. My heart broke, for the hero the moment he learned the truth about his father's death. He'd held out such hope that the person that ended up in jail, for the crime was innocent. While the moment the heroine learned the truth, of the secret connection between Ryan and her brother could have been a turning point in their relationship, depending on the heroine's reaction. She shouldn't have found out the way she did. Furthermore, I was a bit irritated by the hero's persistent use of the word 'perfect' when either talking to, or about the heroine. Sophie didn't need the extra confidence boost. His actions spoke louder than words.
I liked the two main characters. Both of their back stories were engrossing. Sophie is smart, sassy, independent. Some men would be quite intimidated by her, considering how successful she is and the fact that she was gaining her success in an industry where her gender was the less predominant. Then there's the close relationship she has with her brother who she owes a lot of her success to. If he hadn't supported her dreams, her life may have turned out quite differently. As for the hero, Ryan is smart, domineering, successful. His need for control stems from the fact that when his father died his life completely spiraled out of control, and he's not sure he could handle that happening again. If it wasn't for the closeness he has with his siblings, things could have turned out very differently for him as well.
Scorching sex scenes spill over onto the pages nicely and Ryan's need, for control will certainly have readers fanning themselves. Sophie's a strong character, and yet she surrenders to Ryan's domineering ways without hesitation. In fact, she craves the connection because she's so in control in other aspects of her life.
In the end, I really enjoyed this story which happens to end with a cliffhanger. Yet, not one that will leave a reader frustrated.
I would recommend Sinful Desire by Lauren Blakely, if you love an alpha male determined to keep control in all aspects of his life, and a sassy heroine willing to give up control, at least when it comes to intimacy.
Book Info:

Publication: September 22nd, 2015 | Lauren Blakely | Sinful Nights #2
Control.
It's what Ryan Sloan values most. Control of his business, control of his secrets, control of his days and nights. With the way his life spiraled in the past, he needs to stay in charge of his present.
Giving up control.
It's what Sophie Winston craves. After a wildly successful career, she's stepped away from the business world and is now focused on her work as her city's most noted philanthropist.
When she meets Ryan Sloan, the chemistry is scorching, and utterly undeniable. Their desire for each other runs red hot. He wants everything she's willing to give him in bed, and she wants him to take her to new heights as only he can.
Soon, he has to have more. All of her — heart, mind and body.
The only trouble is, he hasn't been honest about how he met her and the dangerous connection he has to her brother.
When the truth is revealed, he'll have to give more of himself than he's bargained for or risk losing the only woman he's ever let into his heart.