In Sinful Seduction by Katie Reus, Alendander "Blue", a former pro-athlete and Marine who now works for Red Stone Security, is taking some down time in Key West after his latest assignment. Blue is having some trouble adjusting to civilian life after being a Marine for so long, but on a night he decides to go out on the town for a bit, he ends up saving a woman from would be kidnappers.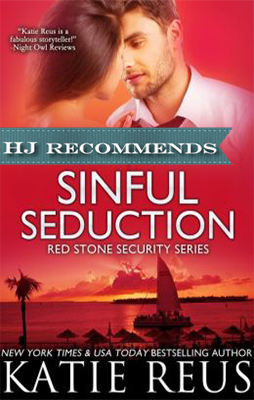 Mina is an artist living in Key West, living her dream. Although the daughter of a rich scientist, she lives in relative anonymity, seeking to be out of the spotlight of her family fame and craving independence. Few people know who she is, she is wary of who she tells because too many people who have known only see money when they look at Mina. When a big, strong man appears out of the blue and saves her from a kidnapping attempt, Mina trusts her instincts and trusts him.
Mina is well aware of the importance of her security, and soon she is working not only with Blue, but with his Red Stone Security team to protect her and find who is threatening her. The immediate intense passion between Blue and Mina is something neither of them can ignore even if it's something neither of them was looking for or expecting. Blue has no problem spending time with Mina, professionally and personally. Can Blue and his team find who is after Mina before they try again? And as fast and hard as Blue and Mina are falling for each other, is there any hope of a future together?
Katie gives us a super fast paced, well written story in Sinful Seduction. Mina and Blue are strong, like-able characters, and Katie's vivid descriptions of them bring them to life. Blue and Mina experience instant attraction, the chemistry is combustible between them! It happens very fast, the romance, the sex…and realistic or not, who doesn't dream of something like that once in a while? I love how protective Blue is, so alpha male! I love how Mina is so independent but she doesn't try to play the solitary heroine, which just makes her more of a heroine! She's not afraid to ask for help and to accept it. Both Mina and Blue are such strong characters.
The interactions between Blue and Mina are honest and open. I like how there are enough secondary characters in Sinful Seduction to add a lot of dimension to the story line, but at the same time they in no way take away from Blue and Mina's story.
If you are a romance reader looking for a really hot, fast romance with action and mystery, you'll love Sinful Seduction. Sinful Seduction is one in a series of Katie Reus's Red Stone Security novels, but it can very easily be read as a stand alone.
Book Info:

Published April 28th 2014
He'll do anything to protect her….
Former Marine and newest Red Stone Security employee Alexander Blue is still adjusting to the civilian world after a decade spent at war, but when he sees someone in danger, nothing can take away that intrinsic need to protect. After stopping a would-be mugger, Blue finds himself being bandaged up by a sensual local artist in her Key West condo. He never expected to stay the night, even if it is on her couch. The mysterious Mina gets under his skin in a way he never thought possible. When it becomes clear that her mugging wasn't random and she's being targeted by deadly men, Blue has no problem stepping into the role of protector.
But she doesn't want to be saved
Tired of being coddled and treated like a child, Mina has tried to distance herself from her family. When danger finds her, she's forced to turn to the sexy stranger who she feels a strong, unexpected connection with. In him she sees glimmers of herself; a little broken, withdrawn and wary of the world. Soon she learns that the biggest threat might not be from the men trying to kidnap her, but from the quiet warrior who poses an immediate risk to her heart.
Sinful Seduction appears in Sinful Seduction anthology.