In Sing Me Back Home by Eve Gaddy, Jack is a physician in Montana who is raising his teenager daughter alone after the death of his wife. He's had no serious relationships since her death, nor is he actively seeking one.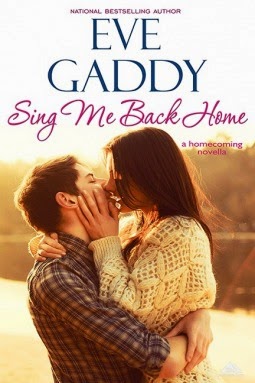 Maya Parrish is Jack's former high school sweet heart who broke his teenage heart way back then. Once a model, now running her own business, divorced, and also with a teenage daughter, when she inherits her great aunt's house in Marietta, she decides it will be the perfect place for her and her daughter. She hasn't been looking for another relationship either, but when she runs into Jack after all these years, the attraction between them is immediate and strong. Neither Jack or Maya have spent years pining for the other, but now that they have met up again, it is impossible to leave old feelings behind, even as the new ones are even more powerful.
Things move fairly quickly between them, sometimes it's like the years never passed. Maya knows she wants to be with Jack, she loves him. But is Jack ready to risk his heart again?
Sing Me Back Home is a second chance romance with characters that are believable. I loved the maturity of Maya and Jack, their dialogue, and their passion. I also liked the little twist Eve gives us with the hero being the reluctant one. Jack is dealing with a lot of guilt and mixed emotions as he and Maya's relationship becomes more serious, and this made him real. I also liked that the two of them hadn't spent years pining for each other, but had moved on and lived their lives. This makes the sparks when they come together again unexpected and hot!
I really liked both of their daughter's characters also, and how they were woven into the plot so well.
It was another great visit to Marietta, Montana in the first novella in a new series (Montana Born Homecoming). Sing Me Back Home is the perfect length for the story being told, and the flow is smooth.
I'd recommend Sing Me Back Home to any romance reader looking for a fast, emotional read.
Book Info:

Published September 22nd 2014 by Montana Born Books |  (Montana Born Homecoming #1)
Dr. Jack Gallagher, one of Marietta, Montana's most eligible bachelors, hasn't been serious about a woman since his wife died five years ago. He's been content to date occasionally, practice medicine and raise his teenage daughter.
Then happily divorced former fashion model, Maya Parrish, moves back to Marietta, with her own teenaged daughter in tow forcing Jack to rethink his casual dates only rule. Maya, Jack's high school girlfriend and almost fiancée, may have broken his heart the night of their high school graduation, but the moment Jack and Maya meet again, all the sizzle and sparks, and then some, come rushing back.
Maya is ready to give love a second try. Jack isn't sure he can take that chance again. He knows how quickly happiness can be ripped away, leaving heartbreak in its place. Can a mad, passionate affair last or will it burn itself out as quickly as it began?