Singapore Fling With a Millionaire by Michelle Douglas: Christy Minslow has put her whole soul and savings into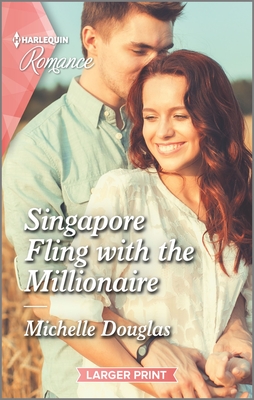 starting a company of her own, Beach Monday. There are quite a few items in her fashion line, but her favorite is one of a kind beach umbrellas that she designed. She loves the designing part of her work, but all the business part wears on her. That's why she agrees to meet James Cooper-Jones in Singapore about selling her business to him. There will be negotiations, but she will also have time to see all the exotic sights there. She is stunned by the beauty of an indoor waterfall at the airport when she arrives. She is even more surprised when Mr. Cooper-Jones shows up in person to greet her.
Christy is very particular about what she expects before she signs on the dotted line. James's company has quite a reputation from when his recently retired mother was CEO. James is now the CEO, but has a different vision. Christy finds James a bit uptight at first. She tries loosening him up by calling him Jamie. After some initial tension, they both agree that the first week of Christy's two week visit should be more about doing fun, touristy type adventures. Christy is from Australia and has never been to Singapore while Jamie has taken several trips there from his home base in New York.
Christy sees Jamie drop some of his reserve and finds he can be fun to be with, It doesn't hurt that he looks handsome in everything he wears. Christy is more of a free spirit in her outlook on life. Can they have a holiday fling with no strings?
In her introduction to this novel author Michelle Douglas writes that she got the idea for this story when she visited Singapore. I will probably never get a chance to go there, but the wonderful thing about books is the reader can go on a journey without leaving their home.
Christy and Jamie are very different in backgrounds, but the author shows how people can find common ground in so many ways. The two characters come across as authentic. In this time when so many things are in an upheaval, it is good to find a happily ever after.
Book Info:

Publication: October 13, 2020 | Harlequin Romance |
Two weeks in Singapore…
…a deal to change everything
Designer Christy Minslow's put everything into her fashion brand. Now she wants to focus on her designs, not balancing the books. When billionaire James Cooper-Ford invites her to discuss buying her out, she's intrigued! After a past bitter betrayal, she's cautious of James's reputation. But in reality, there's more to him than meets the eye. He's funny, charming, attractive…and quite possibly just the holiday fling she needs! (less)