In Sisters and Secrets by Jennifer Ryan, Just when Sierra and her two young boys were starting to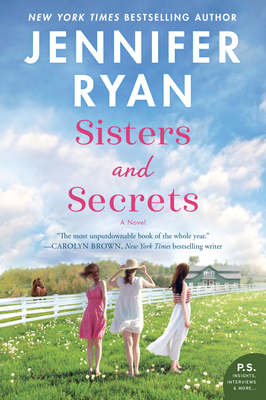 rebuild their life after losing her husband in a car accident, disaster strikes again. This time it's a wildfire that ravages their home and her job. Forced to stay with her mother until she can sort everything out, Sierra goes home to Carmel Valley. One of the things weighing most on her mind is about her husband and the questions regarding what he'd truly been doing the last year or so before his death. With the help of her mother Dede's neighbor–and Sierra's childhood friend–attorney Mason, she hopes he can help find answers that will allow her to put her life back together. But it turns out fate has some surprises yet to come for her and her family.
'This felt right. With literally everything of her old life left in ash, she needed a fresh start.
So did the boys. They'd been through so much this past year, losing their father and now their home.'
Youngest sibling Heather is trying to cherish the days she spends with her eighteen-month-old daughter, knowing it will fly by too quickly. She just wishes Hallee's father could be in the picture. And that her family would stop asking who he is. But that doesn't keep their oldest sister Amy from giving Heather guff about it. Besides, it takes away from the fact that even though on the outside it looks Amy has her stuff together, inside she's a mess. As is her marriage and relationship with her kids. With all three sisters living close to one another again, Amy, Heather, and Sierra will have their hands full with their own personal issues but even more so with revelations that shock the Silva family to its core. And it will take them all finally being honest to ever hope they can heal the wounds that came from those secrets.
"One person can't fix a relationship. One person can't hold it together, but one person can destroy it all."
The title of Jennifer Ryan's most recent women's fiction novel pretty much says it all. Sisters and Secrets explored the complicated relationship between three siblings, the things they were keeping from each other, and the life-changing consequences they faced because of it.
"We three are so different from each other, but we always managed to get through the rough patches."
"Because we're family."
Oh what a tangled up mess Jennifer Ryan created for sisters Amy, Sierra, and Heather. I'll warn in advance that there's a lot I won't be able to discuss where so much of the storyline is built on what each sister is dealing with in their lives and the secrets they've been holding onto. I think depending on each reader's own personal experiences they might take issue with one–or maybe more than one–of the sisters and yet be able to empathize with the other(s).
I personally gravitated toward Sierra. A good portion of the book is told from her POV and my heart just ached for what she and her two adorable little boys, Danny and Oliver, had been through. First losing her husband in a horrific car accident and then losing her home and job when wildfires burned her neighborhood down, Sierra faced tragedy after tragedy. Then there was the possible double life her husband had been leading. Something she found out after he died. I hated to see her go through more pain, even though Sierra and the boys did get a spectacular HEA. But I had to admire her strength and focus through it all.
We also got Amy, Heather, their mother Dede, and neighbor Mason's POVs as well. I liked seeing their thoughts on all that was happening. Again, without any spoilers, Type-A personality Amy was at her wits end with over-scheduling and her marriage was suffering because of it. I was okay with Amy at the end and think a lot of moms will relate to her dilemma. Dede was pretty solid, especially considering she was sort of flighty when the girls were growing up. I thought she tried to do right by her daughters, imparting advice when needed but letting them make their own decisions. And Mason was an awesome hero. Very kind, down-to-earth guy who was there for Sierra when she needed her childhood friend.
Then there was Heather. The youngest sibling who (in my humble opinion) was entitled and selfish. I really struggled to even want to read her perspective on things, let alone try to find redeemable qualities in her. I will say Heather was a good mother to her cutie pie toddler, Hallee. (Love the name!) But the way she treated her family and those around her put me off. I'll leave it up to readers if they can find it in themselves to forgive Heather for her mistakes by the end of the book…
Jennifer Ryan sure knows how to weave a complex story peppered with deep emotions. From sibling rivalry to the depths of grief, the joy of new love to healing and reconciling, Sisters and Secrets covered it all in an insightful, heartfelt way.
Book Info:

Publication: Published June 16th 2020 | William Morrow Paperbacks |
There's nothing more complicated than the relationship among family…Especially when the Silva Sisters are keeping secrets.
For Sierra it means returning home with her two little boys after a devastating Napa wildfire takes her home, her job, and even the last mementos of her late husband, David. Determined to start over, how can she ever reveal the truth—that her husband may have led a double life?
To the world, Amy's world is perfect: handsome husband, delightful children, an Instagram-worthy home. But behind this facade lies an awful truth: her marriage is rocky, her children resentful, her home on the verge of breaking up.
Heather, impulsive, free-spirited, and single mom to an adorable little girl, lives for the moment wearing a carefree smile. But she refuses to reveal the truth about her daughter's father, and his identity remains a mystery even to her family.
As the Silva Sisters secrets are revealed, each realizes that there is more to their family than meets the eyes…and forgiveness may be the only way to move forward and reclaim true happiness at last.
Sisters and Secrets is a moving novel of sisterhood, second chances, and the secrets that have the power to break or bond families—and alter destinies.