In Sixth Grave on the Edge (Charley Davidson #6) by Darynda Jones, Chaotic is Charley Davidson's middle name. Or maybe it's Trouble. Anyway, she is forever finding herself in situations where her life is in danger. Like having a crime family hot on her heels, and a demon just waiting for a chance to trick her into giving him her soul. You would think the grim reaper would be able to scare everyone and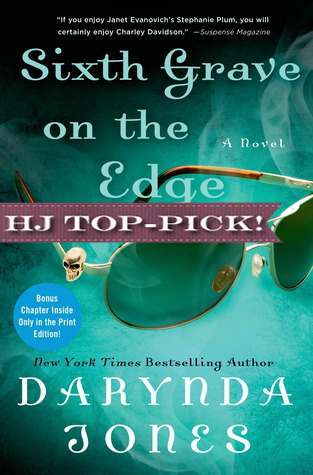 everything evil away from her just a little bit easier.
'No one had any faith in me whatsoever. What would it take to convince them I was competent? Maybe if I stopped getting tortured and beaten up every few days.'
Also on Charley's mind is finding out more about her boyfriend Reyes Farrow's childhood. Now that he's pushing to take their relationship a step further, she thinks it might behoove her know exactly what she should expect from the darkly handsome guy and his past. Armed with the help of her best friend Cookie, her Uncle Bob, and a few other local law enforcement officials, PI Charley sets out to get some answers. And some more coffee.
"You are literally the light in my darkness, the redemption of my past. I waited centuries for you to be born on earth, for me to be able to bask in your glow."
Charley Davidson is back up to her hilarious antics in Sixth Grave on the Edge. The stakes keep getting higher and higher for Charley and her unique band of friends as they battle evil and try to stay out of trouble.
In my humble opinion, Darynda Jones does a fabulous job of giving us a kickass, albeit clumsy, heroine who has a wicked sense of humor. But Charley is also a genuinely caring person, which I absolutely love. She keeps me in stitches with her sarcastic wit and the predicaments only she could get into. I mean, seriously…who else would end up in a high stakes poker game with a demon who steals souls? lol
I was so happy at the end of the book to get a bonus scene from Reyes' POV. And such a sexy scene at that! Reyes was still the charming bad boy, son of Satan (literally) who was just as protective of Charley as ever. He's such a complex character, one who I'm never quite sure if he's really good for her or not. But I don't care. I still fall for Reyes each time he saves Charley. Even if he is the prince of hell.
Whether you are already a fan of the series or not, I think you'll be able to get a lot of laughs and be intrigued by the plot, even if you jump in here with book six.
Book Info:

Published May 20th 2014 by St. Martin's Press | (Charley Davidson #6)
Few things in life can come between a grim reaper and her coffee, but the sexy, sultry son of Satan is one of them. Now that Reyes Farrow has asked for her hand, Charley Davidson feels it's time to learn more about his past, but Reyes is reluctant to open up. When the official FBI file of his childhood abduction lands in her lap, Charley decides to go behind her mysterious beau's back and conduct her own investigation. Because what could go wrong?
Unfortunately, another case has fallen into her lap—one with dangerous implications. Some very insistent men want Charley to hunt down a witness who is scheduled to testify against their boss, a major player in the local crime syndicate. If Charley doesn't come up with an address in 48 hours, the people closest to her will start to disappear.
Add to that a desperate man in search of the soul he lost in a card game, a dogged mother determined to find the ghost of her son, and a beautiful, young Deaf boy haunted by his new ability to see the departed as clearly as he sees the living, and Charley has her hands full. The fact that Reyes has caught on to her latest venture only adds fuel to the inferno that he is. Good thing for Charley she's used to multi-tasking and always up for a challenge…especially when that challenge comes in the form of Reyes Farrow.